| | | |
Winning Through Trust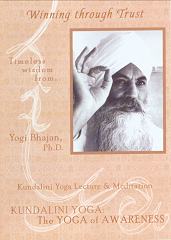 Kundalini Yoga to attract Occult Powers through the Nine Treasures of Spiritual Consciousness
Winning Through Trust from the timeless wisdom of Yogi Bhajan, is part of the Kundalini Yoga Lecture & Meditation Series. This lecture was given on May 6, 1996 - Los Angeles.

You can only win when you can give, you can never win when you take. -
ARTIST / AUTHOR BIOS

Yogi Bhajan was the trail-blazing visionary who introduced the world to the amazing, but hitherto secret, teachings of Kundalini Yoga and, for the very first time, revealed its incredible life-transforming potential.
OTHER PRODUCTS BY OR FEATURING YOGI BHAJAN:
PRODUCT DETAILS
DVD running time = 71:00
UPC: 724007801230
Manufacturer: YB Teachings, LLC. Released: 2006
Catalog: DV07002
Product Dimensions: 7.5 x 5.4 x 0.6 inches (19.0 x 13.7 x 1.5 cm)
Shipping Weight: 0.25 lbs (0.11 kg) - Shipping Options
Yoga Technology Sales Ranking (all products): 173
CUSTOMERS ALSO VIEWED: