| | | |
Transformación Volumen 2 (eBook)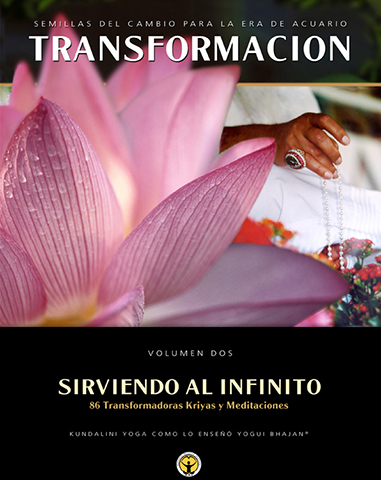 Sirviendo al Infinito nos lleva en un viaje, desde la intuición y la introspección, a nuestras relaciones con los demás y, finalmente, a la experiencia de nuestro destino, para sanar y elevar a todos los que toquemos. Ser el servicio es un regalo; no libera de nuestro ego y nos permite ampliar y unirnos, más allá del Yo, con quienes nos rodean y, finalmente con el infinito. La capacidad para atender a las señales de nuestra creciente madurez espiritual.
Como maestros y sanadores de la Era de Acuario, nuestro servicioes un don, el fruto de nuestro práctica y la joya de nuestra transformación interior. Estos 86 kriyas y meditaciones, extraídas de las prácticasde los programsa de Capacitación para Maestros de Nivel II "Transformación", están organizados para facilitar la prática personal y profundizar tu experiencia del Ser. ¡Varios de estos kriyas seleccionados especificamente para el Nivel II no estabandiponibles previamente! Pratica lo nuevo o domina lo familiar con esta colección reciente del Instituto de Investigación Kundalini. "El propósito de Kundalini Yoga es la transformación." -Yogi Bhajan
ARTIST / AUTHOR BIOS

Yogi Bhajan was the trail-blazing visionary who introduced the world to the amazing, but hitherto secret, teachings of Kundalini Yoga and, for the very first time, revealed its incredible life-transforming potential.
OTHER PRODUCTS BY OR FEATURING YOGI BHAJAN:
PRODUCT DETAILS
File Size(s) & Update(s):
EPUB - 10.891MB - 10/27/19
MOBI - 14.078MB - 10/27/19

ePublication date: 05/26/2021
Catalog: e07406
Print-length: 0 pages
ISBN:
Publisher: KRI; Printed Edition: 0
Yoga Technology Sales Ranking (e-products): 90
CUSTOMERS ALSO VIEWED: