| | | |
Reaching the Real You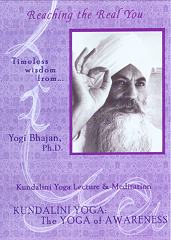 Kundalini Yoga & Meditation featuring a Most Powerful Tantric Exercise
Reaching the Real You is a DVD from the timeless wisdom of Yogi Bhajan, part of the Kundalini Yoga Lecture & Meditation Series. This lecture was given on August 10, 1994 - Espanola, NM.

This is the Age of Aquarius, in which we worship God through our own soul. This is the sole purpose of this life. -
ARTIST / AUTHOR BIOS

Yogi Bhajan was the trail-blazing visionary who introduced the world to the amazing, but hitherto secret, teachings of Kundalini Yoga and, for the very first time, revealed its incredible life-transforming potential.
OTHER PRODUCTS BY OR FEATURING YOGI BHAJAN:
PRODUCT DETAILS
DVD running time = 49:00
UPC: 724007801537
Manufacturer: YB Teachings, LLC. Released: 2006
Catalog: DV07003
Product Dimensions: 7.5 x 5.4 x 0.6 inches (19.0 x 13.7 x 1.5 cm)
Shipping Weight: 0.25 lbs (0.11 kg) - Shipping Options
Yoga Technology Sales Ranking (all products): 83
CUSTOMERS ALSO VIEWED: