| | | |
Eliminating Inner Anger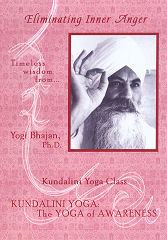 Conscious Relaxation by Oxygenating your Brain to Balance Inner Anger
The yoga set - Eliminating Inner Anger - works on balancing inner anger and oxygenating the brain, to give you an experience of conscious relaxation. Includes Sat Kriya and Celestial Communication.
Yogi Bhajan states that if inverted anger becomes part of the body, you have no relationship with yourself.
ARTIST / AUTHOR BIOS

Yogi Bhajan was the trail-blazing visionary who introduced the world to the amazing, but hitherto secret, teachings of Kundalini Yoga and, for the very first time, revealed its incredible life-transforming potential.
OTHER PRODUCTS BY OR FEATURING YOGI BHAJAN:
PRODUCT DETAILS
DVD running time = 43.:02
UPC: 724007801933
Manufacturer: KRI. Released: 1988
Catalog: DV07007
Product Dimensions: 7.5 x 5.4 x 0.6 inches (19.0 x 13.7 x 1.5 cm)
Shipping Weight: 0.25 lbs (0.11 kg) - Shipping Options
Yoga Technology Sales Ranking (all products): 134
CUSTOMERS ALSO VIEWED: