SHOP eBOOKS | SHOP BOOKS| SHOP DVDs | SHOP CDs | SHOP YOGI TEA
Discover Your Soul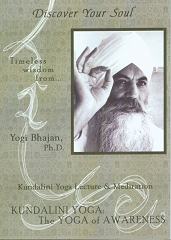 BUY NOW: ONLY $14.90
Retails for: $19.90 You save: $5.00 (25%)
To experience your soul as your soulmate.
From the timeless wisdom of Yogi Bhajan, this DVD is part of the Kundalini Yoga Lecture & Meditation Series. This lecture was given on December 21, 1993 - Winter Solstice, Florida
Your very soul is your soul-mate. And this soul is the source of your caliber. -
ARTIST / AUTHOR BIOS

Yogi Bhajan was the trail-blazing visionary who introduced the world to the amazing, but hitherto secret, teachings of Kundalini Yoga and, for the very first time, revealed its incredible life-transforming potential.
---
OTHER PRODUCTS BY OR FEATURING YOGI BHAJAN:
PRODUCT DETAILS
DVD running time = 56:00
UPC: 724007801339
Manufacturer: YB Teachings, LLC. Released: 2006
Catalog: DV07001
Product Dimensions: 7.5 x 5.4 x 0.6 inches (19.0 x 13.7 x 1.5 cm)
Shipping Weight: 0.25 lbs (0.11 kg) Shipping Options
Yoga Technology Sales Ranking (all products): 166
---
CUSTOMERS WHO VIEWED THIS ITEM ALSO BOUGHT: