SHOP eBOOKS | SHOP BOOKS| SHOP DVDs | SHOP CDs | SHOP YOGI TEA
Relax and Renew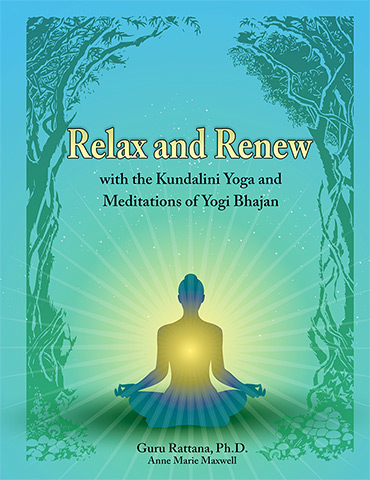 BUY NOW: ONLY $31.90
Retails for: $34.95 You save: $3.05 (9%)
2nd Edition - Kundalini Yoga for Stress Reduction & Inner Peace
Also available as an eBook - $17.59
Relax and Renew is Guru Rattana's second quintessential compilation of Kundalini Yoga Kriyas and Meditations from the early teachings of Yogi Bhajan. Yet another invaluable guide to life and living in the Aquarian Age, this new and updated second edition has been greatly expanded and adapted, offering gems to assist in meeting the new challenges of the times, and help you make health and healing into a rewarding and spiritual lifestyle.
ARTIST / AUTHOR BIOS

Guru Rattana, Ph.D., author, teacher and teacher of teachers, has been a student and teacher of Kundalini Yoga and Meditation for over 40 years. She literally lives and loves Kundalini Yoga, and has devoted a large part of her life to teaching and writing books about this amazing technology.
---
OTHER PRODUCTS BY OR FEATURING GURU RATTANA PHD:
PRODUCT DETAILS
Manual (comb binding) 234 pages
ISBN: 9781888029222
Publisher: Yoga Technology Press, Edition: 2017
Catalog: P01012
Product Dimensions: 11 x 8.5 x 0.75 inches (27.9 x 21.6 x 1.9 cm)
Shipping Weight: 1.4 lbs (0.64 kg) Shipping Options
Yoga Technology Sales Ranking (all products): 23
---
CUSTOMERS WHO VIEWED THIS ITEM ALSO BOUGHT: