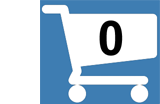 Relax And Renew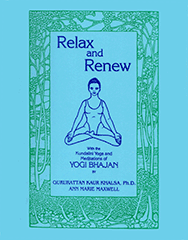 BUY NOW FOR $21.95
Retails for - $24.95 You save - $3.00
Ships FREE to US Customers
Normally ships from our warehouse in 1-2 working days
MORE BOOKS | MORE DVDs | MORE CDs | YOGI TEA
A Successful and Permanent Cure for Stress
Relax and Renew by Guru Rattana, Ph.D. takes stress reduction to the level of spiritual resolution. The techniques offered in this book, don't just cover up the symptoms, they completely cure the problem!
Regular practice of even one of the hundreds of powerful techniques, based on ancient technology first brought to the West by Yogi Bhajan, will change your energy and introduce you to a new dimension of peace and tranquility.
Over 100 Yoga Sets & Meditations
200 information-packed pages
Relax & Release stress in 2-11 minutes
Repair effects of Drug Abuse
Get High, legally & healthily
Rejuvenate your Body
Energize, Tranquilize
Beautifully & Clearly Illustrated
PRODUCT DETAILS
Manual (comb binding) 194 pages
ISBN: 9781888029048
Publisher: Yoga Technology Press, Edition: 1988
Catalog: P01002
Product Dimensions: 11 x 8.5 x 0.4 inches (27.9 x 21.6 x 1.0 cm)
Shipping Weight: 1.2 lbs (0.54 kg) Shipping Options
Yoga Technology Sales Ranking (all products): 3
CUSTOMERS VIEWING THIS PAGE MAY ALSO BE INTERESTED IN:
ARTIST / AUTHOR BIOS
Guru Rattana PhD

Guru Rattana, Ph.D., author, teacher and teacher of teachers, has been a student of Yogi Bhajan and teacher of his Kundalini Yoga and Meditation for almost 40 years. She literally lives and loves Kundalini Yoga, and has devoted a large part of her life to teaching and writing books about this amazing technology.
OTHER PRODUCTS BY OR FEATURING GURU RATTANA PHD:
Below you will find our selection of other products by Guru Rattana PhD, competitively priced, and with FREE Shipping to US Retail Customers.