| | | |
Transitions to a Heart Centered World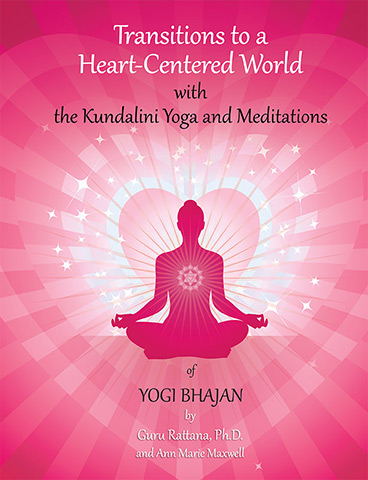 Powerful and Effective Kundalini Yoga Techniques to Open Your Heart
Also available as an eBook - $16.99
Transitions to a Heart-Centered World by Guru Rattana, Ph.D., is a rich and unique compilation of the core teachings and Kundalini Yoga kriyas and meditations of Yogi Bhajan. Still her most popular manual, this new Second Edition, revised and updated*, marks the 26th anniversary of the original publication in 1988. It is ready to welcome a whole new generation of students to this powerful and life-changing technology, as well as providing many new insights for those in possession of the original edition.
Containing the most comprehensive collection (over 100) of the finest sets and meditations from Yogi Bhajan's early teachings, it is in daily use by Kundalini Yoga teachers worldwide and is still the first book purchased by many new students. It offers powerful and effective techniques to empower your lower chakras and open your heart to unconditional love. The content has been fine-tuned by Guru Rattana, and distilled from knowledge and wisdom she has gained from a lifetime of both practice and teaching this amazing technology.
European Customers - Please note that this book can also be purchased from our sales partner Sat Nam Europe. Please CLICK HERE to check out their offer and take advantage of their excellent service.
ARTIST / AUTHOR BIOS

Guru Rattana, Ph.D., author, teacher and teacher of teachers, has been a student and teacher of Kundalini Yoga and Meditation for over 40 years. She literally lives and loves Kundalini Yoga, and has devoted a large part of her life to teaching and writing books about this amazing technology.
OTHER PRODUCTS BY OR FEATURING GURU RATTANA PHD:
PRODUCT DETAILS
Manual (comb binding) 204 pages
ISBN: 9781888029123
Publisher: Yoga Technology Press, Edition: 2014
Catalog: P01011
Product Dimensions: 11 x 8.5 x 0.75 inches (27.9 x 21.6 x 1.9 cm)
Shipping Weight: 1.2 lbs (0.54 kg) - Shipping Options
Yoga Technology Sales Ranking (all products): 2
CUSTOMERS ALSO VIEWED: