| | | |
The Power of Neutral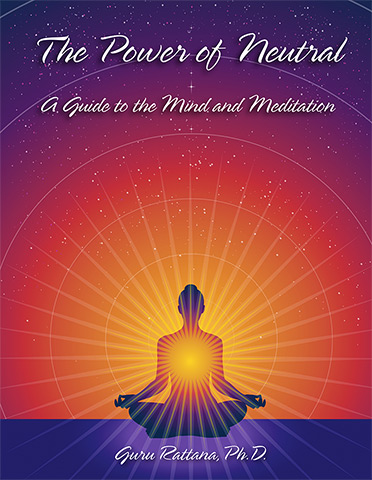 Your Guide to the Mind and Meditation
Also available as an eBook - $16.99
The Power of Neutral reveals the secret to effective meditation - awaken your neutral mind and change channels. Guru Rattana teaches you how to exit your conflictual mind and access your inner space of peace.
Course book, to accompany Guru Rattana's new series of Zoom workshops - commencing 12/4/2022.
This is the book you have been waiting for. Make it your essential guide to the art of meditation, and its key role in spiritual transformation.
Easily accessible for beginners
Illuminating for those who want more
Profound and penetrating for seasoned practitioners
Within its pages, and based upon a lifetime of study and practice of Kundalini Yoga and Meditation, Guru Rattana explains how the mind works, offers practical ways to direct your meditation practice, and gives you the keys to open the door to your inner journey.
Neutral Is Our Power Base
In our usual asleep state, awareness is very limited and often monopolized by random thoughts or spaced out. There is a vast reality within that of which we are unaware — our soul, the Infinite, inner peace, universal wisdom, and Divine Love.
As multi-dimensional beings, living in a multi-dimensional world and universe, we need more than our dualistic mind to experience and compute what is going on. We need our neutral mind, which has access to subtle information from our Soul and the Infinite, and which gives us ability to see and perceive reality the way it actually is, not the way we would like it to be.
Our Guru Rattana Combo Deals make great gifts. Check them out now!
European Customers - Please note that this book can also be purchased from our sales partner Sat Nam Europe. Please CLICK HERE to check out their offer and take advantage of their excellent service.
PRODUCT REVIEWS
I built my Practice around Your Teachings
I adore your book The Power of Neutral, and am so grateful that I met you so shortly after starting to do k-yoga. What you taught from that book (and of course other later things, too) formed my practice. Love, tenderness, blessings.
ARTIST / AUTHOR BIOS

Guru Rattana, Ph.D., author, teacher and teacher of teachers, has been a student and teacher of Kundalini Yoga and Meditation for over 40 years. She literally lives and loves Kundalini Yoga, and has devoted a large part of her life to teaching and writing books about this amazing technology.
OTHER PRODUCTS BY OR FEATURING GURU RATTANA PHD:
PRODUCT DETAILS
Manual (comb binding) 279 pages
ISBN: 9781888029116
Publisher: Yoga Technology Press, Edition: 2013
Catalog: P01104
Product Dimensions: 11 x 8.5 x 1 inches (27.9 x 21.6 x 2.5 cm)
Shipping Weight: 1.6 lbs (0.73 kg) - Shipping Options
Yoga Technology Sales Ranking (all products): 12
CUSTOMERS ALSO VIEWED: