| | | |
Introduction to Kundalini Yoga 1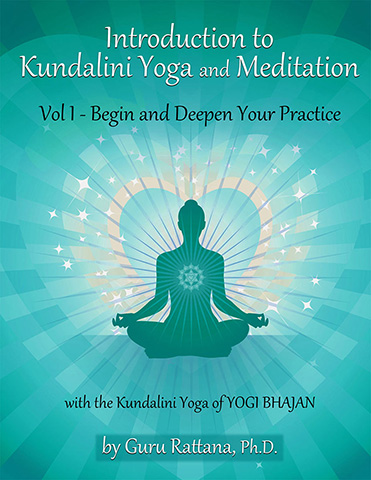 BUY NOW: ONLY $25.46
Retails for: $29.95 You save: $4.49 (15%)
Raising Your Kundalini and Achieving Higher Consciousness
Also available as an eBook - $14.44
Introduction to Kundalini Yoga and Meditation contains, in this book and its companion Volume 2, everything you need to know to begin your voyage of self-discovery into the magic of Kundalini Yoga. Guru Rattana seamlessly combines the essence of Yogi Bhajan with her own knowledge and unique insights, gained from 40 years of personal practice, study and teaching. Her wisdom illuminates your path, taking you deep within on a heart-centered journey of transformation and self-discovery, to a destination of self-love, inner peace and oneness with all.
European Customers - Please note that this book can also be purchased from our sales partner Sat Nam Europe. Please CLICK HERE to check out their offer and take advantage of their excellent service.
Volume 1, Begin and Deepen Your Practice, has been 15 years in preparation and has been completely rewritten from cover to cover. It contains a comprehensive and easy-to-follow but detailed explanation of the basics that we must all learn and perfect to raise our Kundalini and achieve higher consciousness.
You will find useful tips to help you design your personal practice and optimize your progress
You will discover how to direct your attention, to tune into the subtle energetic aspects of your being
You will better understand how your mind works so you can successfully meditate
This introduction is beyond perfect. This is True Kundalini! You have taken everything from my heart and understanding, and placed it in print with your yogic history! YES!!!! It creates awe. -
ARTIST / AUTHOR BIOS

Guru Rattana, Ph.D., author, teacher and teacher of teachers, has been a student and teacher of Kundalini Yoga and Meditation for over 40 years. She literally lives and loves Kundalini Yoga, and has devoted a large part of her life to teaching and writing books about this amazing technology.
OTHER PRODUCTS BY OR FEATURING GURU RATTANA PHD:
PRODUCT DETAILS
Manual (comb binding) 154 pages
ISBN: 9781888029147
Publisher: Yoga Technology Press, Edition: 2015
Catalog: P01021
Product Dimensions: 11 x 8.5 x 0.4 inches (27.9 x 21.6 x 1.0 cm)
Shipping Weight: 0.95 lbs (0.43 kg) - Shipping Options
Yoga Technology Sales Ranking (all products): 13