Guru Rattana, Ph.D.
Leading Author & Teacher of Kundalini Yoga
A pioneering teacher and prolific writer, Guru Rattana is author of four of the original, and still extremely popular, Kundalini Yoga and Meditation manuals: Transitions to a Heart-Centered World, Relax and Renew, Sexuality and Spirituality, and Introduction to Kundalini Yoga, as well as Your Life Is in Your Chakras and The Destiny of Women Is the Destiny of the World. Her most recent book is The Inner Art of Love. She has also written nearly 200 issues of the New Millennium Being e-zine, featuring insightful articles on spirituality, astrology, and Kundalini Yoga.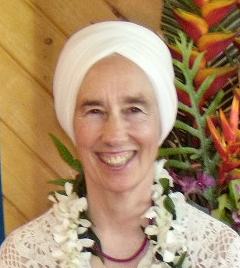 Guru Rattana began studying with Yogi Bhajan in 1977 and is a KRI-certified Kundalini Yoga teacher. She has attended over 100 White Tantric Meditation courses, including Summer and Winter Solstices, and over a dozen Khalsa Women's Training Camps, where she has taught many courses.
Her international teaching tours have taken her to England, Sweden, Russia, the Netherlands, Germany, Italy, Turkey, and Portugal, and include an annual Women of the World Retreat. She is lead trainer and co-creator of KRIYA Kundalini Yoga Teacher Training Courses, registered with Yoga Alliance.
Guru Rattana, Thank you for your encouragement. I am deeply grateful for the strong, clear spirit with which you sustain and invigorate us all. Your thoroughly sane and intelligent approach to spiritual practice and life in general is truly uplifting. It is a great tribute to Yogiji that he has spawned a generation of self-motivated, God-centered spiritual practitioners, such as you, who have benefited so much from his teachings that they are able to stand in their own strong and clear consciousnesses and serve as beacons of truth and light to new generations of seekers.
Guru Rattana earned her Doctorate in Political Science from the Graduate Institute of International Studies (University of Geneva) and received her Master's degree from Johns Hopkins School of Advanced International Studies (Washington, DC, and Bologna, Italy). She has taught International Environment and Development Studies at Dartmouth College, MIT, and New Hampshire College, and Philosophies of Life and History at the U.S. International University. She has also taught at the Institute of Transpersonal Psychology in Palo Alto, CA, and at Stanford University.
Guru Rattana currently resides in Coronado (San Diego), California, and when she is not traveling, she regularly teaches in the San Diego area.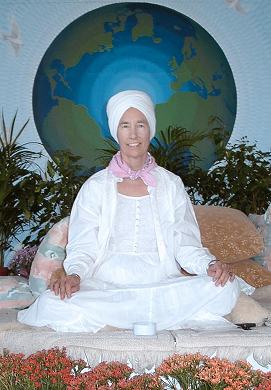 On a spiritual quest - Guru Rattana, Ph.D.
Guru Rattana's Classes & Workshops