| | | |
Introduction to Kundalini Yoga - 2 Volume Set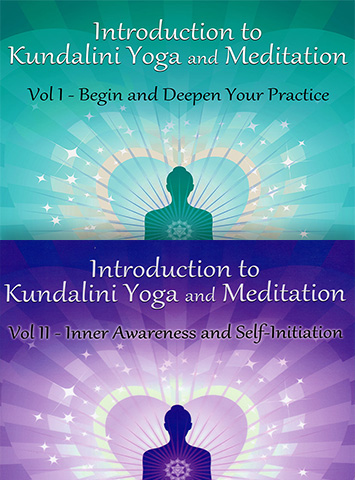 BUY NOW: ONLY $47.92
Retails for: $59.90 You save: $11.98 (20%)
Everything You Need to Know to Begin and Deepen Your Practice
Introduction to Kundalini Yoga and Meditation contains, within this two-volume set, everything you need to know to begin your voyage of self-discovery into the magic of Kundalini Yoga. Save $9.95 off regular retail when you buy them together! Free shipping to our US customers.
Guru Rattana, Your Vol 1 & 2 Introductions, which I recently purchased, are a god-send. I began Yogi Bhajan's yoga in 1975. It saved my life. I made tantrics and solstices at various times, bought most books, but your volumes brought everything back and more. I could not go ahead without them. If you had not done this, then I think the heart and soul would have been lost for good. Thanks greatly.
Guru Rattana seamlessly combines the essence of Yogi Bhajan with her own knowledge and unique insights, gained from almost 40 years of personal practice, study and teaching. Her wisdom illuminates your path, taking you deep within on a heart-centered journey of transformation and self-discovery, to a destination of self-love, inner peace and oneness with all.
ARTIST / AUTHOR BIOS

Guru Rattana, Ph.D., author, teacher and teacher of teachers, has been a student and teacher of Kundalini Yoga and Meditation for over 40 years. She literally lives and loves Kundalini Yoga, and has devoted a large part of her life to teaching and writing books about this amazing technology.
OTHER PRODUCTS BY OR FEATURING GURU RATTANA PHD:
PRODUCT DETAILS
Manuals (comb binding) set of 2 325 pages
ISBN:
Publisher: Yoga Technology Press, Edition: 2015
Catalog: P01023
Product Dimensions: 11 x 8.5 x 0.8 inches (27.9 x 21.6 x 2.0 cm)
Shipping Weight: 2.0 lbs (0.91 kg) - Shipping Options
Yoga Technology Sales Ranking (all products): 6
CUSTOMERS ALSO VIEWED: