SHOP eBOOKS | SHOP BOOKS| SHOP DVDs | SHOP CDs | SHOP YOGI TEA
Transiciones hacia un mundo centrado en el córazon (eBook)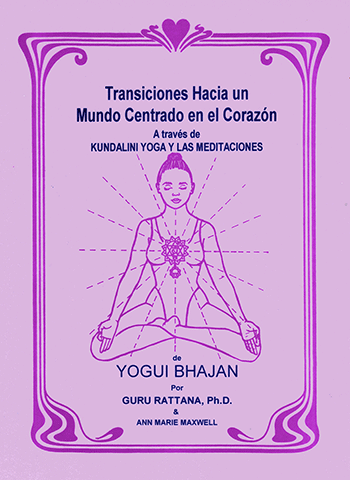 BUY NOW: ONLY $13.19
Retails for: $14.99 You save: $1.80 (12%)
Abra su corazón al amor incondicional
Printed version also available - $21.90
Yogi Bhajan le pidió a Guru Rattana que escribiera Transiciones a un mundo centrado en el corazón. Es donde encontrarás la colección más completa de juegos y meditaciones originales de Kundalini Yoga que él trajo a Occidente. Este libro ofrece técnicas poderosas y efectivas con las que puedes abrir tu corazón al amor incondicional.
ARTIST / AUTHOR BIOS

Guru Rattana, Ph.D., author, teacher and teacher of teachers, has been a student and teacher of Kundalini Yoga and Meditation for over 40 years. She literally lives and loves Kundalini Yoga, and has devoted a large part of her life to teaching and writing books about this amazing technology.
---
OTHER PRODUCTS BY OR FEATURING GURU RATTANA PHD:
PRODUCT DETAILS
File Size(s) & Update(s):
PDF - 7.328MB - 05/31/19

ePublication date: 5/30/2019
Catalog: e01201
Print-length: 202 pages
ISBN: 9781888029086
Publisher: Yoga Technology Press; Printed Edition: 2006
Yoga Technology Sales Ranking (e-products): 61
---
CUSTOMERS WHO VIEWED THIS ITEM ALSO BOUGHT: