SHOP eBOOKS | SHOP BOOKS| SHOP DVDs | SHOP CDs | SHOP YOGI TEA
The Gift of Womanhood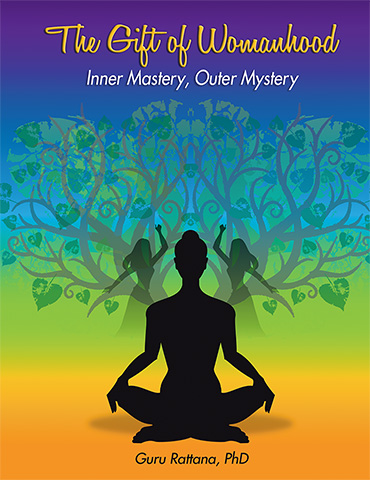 BUY NOW: ONLY $35.90
Retails for: $39.95 You save: $4.05 (10%)
Inner Mastery - Outer Mystery
Also available as an eBook - $20.23
The Gift of Womanhood offers every woman a profound formula and transformational techniques for liberating her psyche, and reveals a groundbreaking approach to women's empowerment. Guru Rattana decodes your mysterious design and guides you to awaken to your authentic identity as a sacred woman. With deep insight and sensitivity, she illuminates a unique spiritual path for women using Kundalini Yoga and Meditation techniques that will touch your soul and set you free.
ARTIST / AUTHOR BIOS

Guru Rattana, Ph.D., author, teacher and teacher of teachers, has been a student and teacher of Kundalini Yoga and Meditation for over 40 years. She literally lives and loves Kundalini Yoga, and has devoted a large part of her life to teaching and writing books about this amazing technology.
---
OTHER PRODUCTS BY OR FEATURING GURU RATTANA PHD:
PRODUCT DETAILS
Manual (comb binding) 333 pages
ISBN: 9781888029109
Publisher: Yoga Technology Press, Edition: 2012
Catalog: P01103
Product Dimensions: 11 x 8.5 x 1 inches (27.9 x 21.6 x 2.5 cm)
Shipping Weight: 1.8 lbs (0.82 kg) Shipping Options
Yoga Technology Sales Ranking (all products): 21
---
CUSTOMERS WHO VIEWED THIS ITEM ALSO BOUGHT: