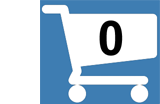 A Taste Of India.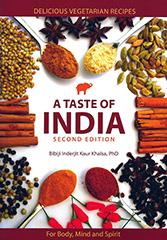 BUY NOW FOR $16.95
Retails for - $19.95 You save - $3.00
Ships FREE via USPS to US Retail Customers
Normally ships from our warehouse in 1-2 working days
MORE BOOKS | MORE DVDs | MORE CDs | YOGI TEA
Delicious Secrets from the Ancient Ayurvedic Science of Life
An Indian cookbook for the health-conscious gourmet
Wheat and dairy free recipes that are low in fat
Yogic healing formulae that cleanse toxins and help to rebuild
Mouthwatering snacks, appetizers and desserts, along with an unusual variety of vegetarian main dishes
Over 180 delectable kitchen-tested recipess
Complete instructions for serving an authentic Indian meal
Helpful tips for buying, preparing and storing specialty foods
This is the second edition of Bibiji's popular book on Indian cookery, inspired originally by her husband, Yogi Bhajan. Based on the ancient Ayurvedic science of life, these recipes nourish the whole being - body, mind and spirit. Recipes to uplift the soul and open the heart, Bibiji's philosophy is that the love you put into the food you make is the purist nourishment of all.
In A Taste of India you will discover tips for preparing food at home that fulfills the palate and brings your healing touch into your food and your home. Great for yogis, exercise enthusiasts, martial artists, and anyone who wants to experience a boost in their metabolism and energize their whole being, Bibiji gives us colorful dishes whtat possess a wide variety of subtle tastes and aromas.
These recipes bring her special combination of herbs, oils and spices, with whole and natural foods, and leave you feeling uplifted and fulfilled. Add a little joy and spice to your life with A Taste of India.
PRODUCT DETAILS
Book softcover 265 pages
ISBN: 9781934532874
Publisher: KRI, Edition: 2012
Catalog: P07211
Product Dimensions: 10 x 7 x 0.65 inches (25.4 x 17.8 x 1.7 cm)
Shipping Weight: 1.35 lbs (0.61 kg) Shipping Options
Yoga Technology Sales Ranking (all products): 195
CUSTOMERS WHO BOUGHT THIS ITEM ALSO BOUGHT:
ARTIST / AUTHOR BIOS
Bibiji Inderjit Kaur

Bibiji Inderjit Kaur, widow of the late Yogi Bhajan, has been cooking and teaching cooking for many years. The authentic vegetarian recipes presented in her Eastern cookery book, A Taste of India, including many of Yogi Bhajan's personal favorites, are exotic yet presented so clearly that they are easy to prepare.