| | | |
The Moon She Rocks You (eBook)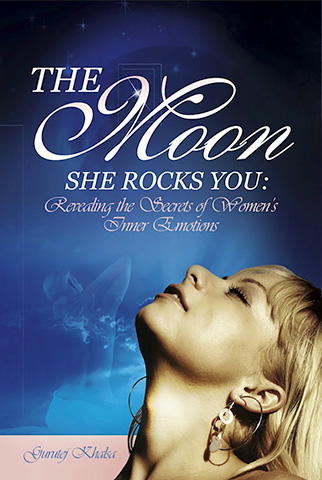 Tools, Techniques and Tips to Restore your Emotional Balance
Have you noticed that some days you feel strong and powerful and can take on the entire universe and other days you want to find a bathroom to hide in and cry? Why is that? This book will give you many tools, techniques and tips to restore your balance so you can easily access the gifts of each Moon Center.
This is not a shield to hide behind, but information to make you more aware, informed, and complete with support tools that will make you more powerful as a woman.
"Had I known how revealing this was and what great solutions for my problems, I would have willingly paid you almost anything." -
Women are ruled by the moon. Like the moon, women are a mystery. We have a dark unseen side and another that's fully lit. We change cycles every 2.5 days. We have tides like the ocean, and we call our menstrual cycle, our moon cycle. The Moon Centers show us various points in our body that correspond to certain feelings and moods we may experience during the 28-day lunar cycle.
ARTIST / AUTHOR BIOS

For over 40 years, Gurutej Kaur has been teaching people in the US, Canada and Europe how to connect to their higher consciousness through Kundalini Yoga, chanting, meditation and healing. She specializes in pre and postnatal yoga, and yoga for women and children. In 1998, along with Gurmukh, she founded the Golden Bridge Yoga Center in Los Angeles. Every day she lives the meaning of her Sikh name, which translates as "the one who brings you from darkness into light."
OTHER PRODUCTS BY OR FEATURING GURUTEJ KAUR:
PRODUCT DETAILS
File Size(s) & Update(s):
EPUB - 0.278MB - 07/14/18
MOBI - 0.353MB - 07/15/18

ePublication date: 07/14/2018
Catalog: e05402
Print-length: 187 pages
ISBN: 9781620957776
Publisher: Energy Gurus; Printed Edition: 2012
Yoga Technology Sales Ranking (e-products): 26
CUSTOMERS ALSO VIEWED: