| | | |
The 13th Month (eBook)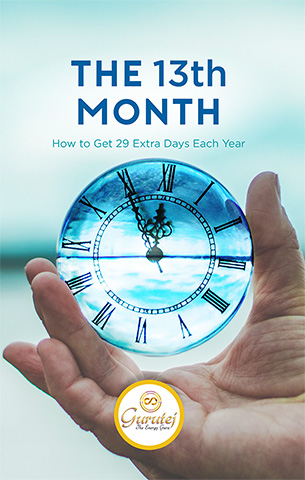 How to Enjoy a more Powerful, Dynamic and Fulfilling Life
What if a magic genie came down and gave you two extra hours each and every day? Would you accept the gift? Would you be ecstatic? How would you like to sleep less yet FEEL BETTER? The 13th Month will give you tools to do just that!
This book is for those who want more and are fearless about what they are willing to do to achieve great success. Are you more curious or more resistant? If you are resistant and this is not what you want, please pass this book on to someone you know who really wants a more powerful, dynamic and fulfilling life, and is willing to do what it takes to have that life.
Ask yourself: What would make you willing to sleep less? I want you to look at these numbers and see if they inspire you. If you gained two waking hours per day—that is, 14 hours a week, 60 hours a month, and a glorious 728 hours a year, then you would gain over a month each year. You would find a free gift if you take me up on this process. Just think what you could do with that time—one extra month in your life, each and every year you do this.
Think…
how much more money you would make.
how much more time you would have with the people you love.
how much more time you would have to pursue your passions doing what you love.
To everyone who's ever wished they had more time on their hands to do what they've always wanted to do in life and the energy to do it." –
ARTIST / AUTHOR BIOS

For over 40 years, Gurutej Kaur has been teaching people in the US, Canada and Europe how to connect to their higher consciousness through Kundalini Yoga, chanting, meditation and healing. She specializes in pre and postnatal yoga, and yoga for women and children. In 1998, along with Gurmukh, she founded the Golden Bridge Yoga Center in Los Angeles. Every day she lives the meaning of her Sikh name, which translates as "the one who brings you from darkness into light."
OTHER PRODUCTS BY OR FEATURING GURUTEJ KAUR:
PRODUCT DETAILS
File Size(s) & Update(s):
EPUB - 2.959MB - 06/25/19
MOBI - 0.552MB - 06/25/19

ePublication date: 07/14/2018
Catalog: e05403
Print-length: 172 pages
ISBN: 9781720630258
Publisher: Energy Gurus; Printed Edition: 2018
Yoga Technology Sales Ranking (e-products): 88
CUSTOMERS ALSO VIEWED: