| | | |
Kundalini Yoga for Beginners Book and 6 DVD Course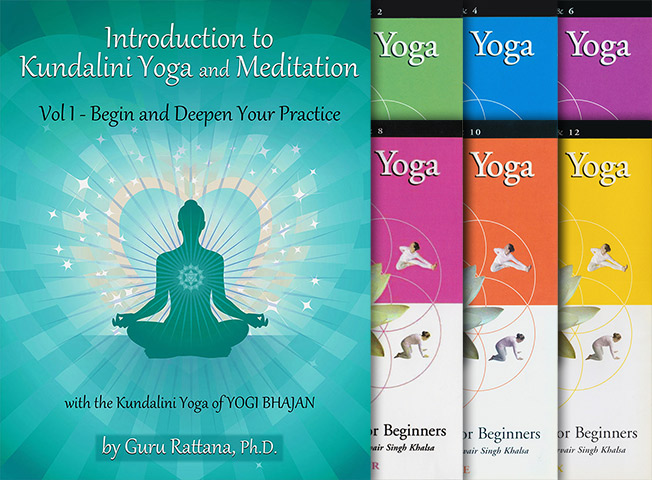 One Great Course - Two Great Teachers
In our new Kundalini Yoga for Beginners course, by Guru Rattana and Nirvair Singh, we have combined the teachings of two leading exponents. Guru Rattana's deep knowledge and unique insights, gained from over 40 years of person practice, study and teaching compliment Nirvair's more practical and enjoyably humorous approach to the physical exercises, breathing techniques, deep relaxation and meditations which are the basis for the technology. Gently challenging, these delightful programs are made for people of all ages and physical conditions.
In Introduction to Kundalini Yoga (Volume 1) you will find everything you need to know to commence your voyage of self-discovery. Guru Rattana seamlessly combines the essence of the original teachings with her own knowledge and unique insights, gained from over 40 years of personal practice, study and teaching. Her wisdom illuminates your path, taking you deep within on a heart-centered journey of transformation and self-discovery, to a destination of self-love, inner peace and oneness with all.
Nirvair's videos were originally broadcast as an accredited telecourse at the University of Alaska, Anchorage. The twelve one hour classes are designed as a highly practical complete home study course in Kundalini yoga.
Details of lessons:
ARTIST / AUTHOR BIOS

Guru Rattana, Ph.D., author, teacher and teacher of teachers, has been a student and teacher of Kundalini Yoga and Meditation for over 40 years. She literally lives and loves Kundalini Yoga, and has devoted a large part of her life to teaching and writing books about this amazing technology.

Kundalini Yoga teacher Nirvair Singh Khalsa is a prolific author with a total of 23 books and DVDs to his credit, many of which we carry here at Yoga Technology. A retired university instructor, he taught classes in Kundalini Yoga at the University of Alaska for 22 years, introducing some 275,000 students to the amazing power of this technology. These classes became the basis for our home study Beginners' DVD course.
OTHER PRODUCTS BY OR FEATURING GURU RATTANA PHD:
PRODUCT DETAILS
DVD - set of 6 with Book running time = 720:00
UPC:
Director: Chuck Bradlee
Manufacturer: NSK Productions. Released: 2002
Catalog: DV01411
Product Dimensions: 12 x 9 x 3 inches (30.5 x 22.9 x 7.6 cm)
Shipping Weight: 2.7 lbs (1.22 kg) - Shipping Options
Yoga Technology Sales Ranking (all products): 2