| | | |
Art of Making Sex Sacred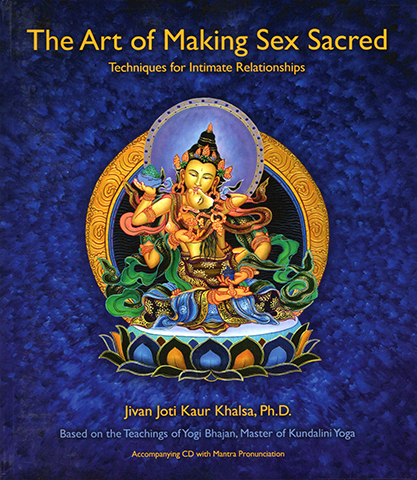 Proven Techniques for Rejuvenating Your Sexual Health and Building True Intimacy
As a seeker of spiritual ecstasy, either currently involved in an intimate relationship or preparing to begin a new one, you will find, in The Art of Making Sex Sacred, all the advice and information you will need for reclaiming self-reverence and respect, gaining self-awareness, rejuvenating your sexual health, and building true intimacy.
Author Jivan Joti Kaur has included exercises and meditations for couples, designed to support healing, enhance communication, and to allow them the experience of blissful lovemaking. In each chapter you will find answers from Yogi Bhajan to delicate questions, stories from other couples, and a chapter is included detailing special foods and recipes which will help enhance your sexual experience. The last chapter, added to this Second Edition, is filled with tips from the author's 37 years of marriage and counseling experience.
Within the dance of life, there is the act of sex, which is the merging of our beings into the life force of the creation. More than just a lust or passion for another person on a purely physical level, sex can be a truly sacred act of Nature and God. This manual seeks to help those who are on that path of discovery, to find their way home into the arms of the True Beloved.
ARTIST / AUTHOR BIOS

Jivan Joti Kaur Khalsa has a Ph.D. in psychotherapy, but her first love revolves around the practices of Kundalini Yoga, Meditation, and Sat Nam Rasayan Healing. Her studies with the late Yogi Bhajan began in 1970. She gained much from his teachings, especially concerning the art of listening - to the needs of her body, to the neutrality of her mind, and to the longing of her soul.
PRODUCT DETAILS
Book softcover 184 pages
ISBN: 9781615397969
Publisher: Jivan Joti Kaur, Edition: 2009
Catalog: p04701
Product Dimensions: 8 x 7 x 0.5 inches (20.3 x 17.8 x 1.3 cm)
Shipping Weight: 1.0 lbs (0.45 kg) - Shipping Options
Yoga Technology Sales Ranking (all products): 58
CUSTOMERS ALSO VIEWED: