SHOP eBOOKS | SHOP BOOKS| SHOP DVDs | SHOP CDs | SHOP YOGI TEA
Art of Making Sex Sacred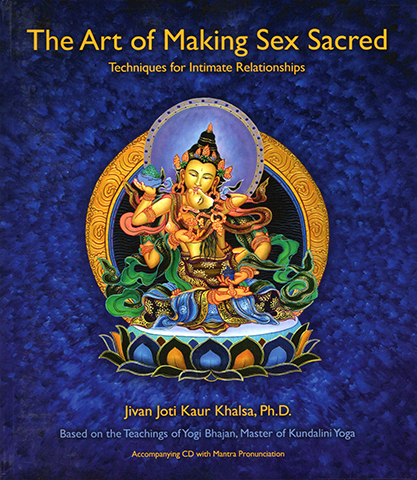 BUY NOW: ONLY $27.95
Retails for: $35.00 You save: $7.05 (20%)
Techniques for Intimate Relationships
As a seeker of spiritual ecstasy, either currently involved in an intimate relationship or preparing to begin a new one, you will find, in The Art of Making Sex Sacred, all the advice and information you will need for reclaiming self-reverence and respect, gaining self-awareness, rejuvenating your sexual health, and building true intimacy.
ARTIST / AUTHOR BIOS

Jivan Joti Kaur Khalsa has a Ph.D. in psychotherapy, but her first love revolves around the practices of Kundalini Yoga, Meditation, and Sat Nam Rasayan Healing. Her studies with the late Yogi Bhajan began in 1970. She gained much from his teachings, especially concerning the art of listening - to the needs of her body, to the neutrality of her mind, and to the longing of her soul.
PRODUCT DETAILS
Book softcover 184 pages
ISBN: 9781615397969
Publisher: Jivan Joti Kaur, Edition: 2009
Catalog: p04701
Product Dimensions: 8 x 7 x 0.5 inches (20.3 x 17.8 x 1.3 cm)
Shipping Weight: 1.0 lbs (0.45 kg) Shipping Options
Yoga Technology Sales Ranking (all products): 32
---
CUSTOMERS WHO VIEWED THIS ITEM ALSO BOUGHT: