SHOP eBOOKS | SHOP BOOKS| SHOP DVDs | SHOP CDs | SHOP YOGI TEA
Heavens Banquet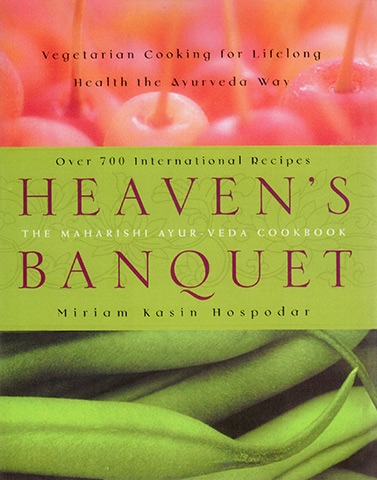 HALF OFF! - ONLY $12.50
Retails for: $25.00 You save: $12.50 (50%)
Vegetarian Cooking for Lifelong Health the Ayurveda Way
Fully illustrated, and inclusively written for everyone from the beginner cook to the experienced chef, Heaven's Banquet shows how to incorporate the timeless principles of Ayurveda into the twenty-first-century kitchen, and how to create life-long health by using food to tap into your body's intelligence.
ARTIST / AUTHOR BIOS

Born and brought up in Berkeley, California, art, writing and music have been important to Miriam her entire life. She went from demonstrator and protester to an exponent and teacher of transcendental meditation. She has worked as a chef in France and Switzerland and roamed through temples and holy places in Southern India.
PRODUCT DETAILS
Book softcover 610 pages
ISBN: 9780452282780
Publisher: Penguin/Randomhouse, Edition: 1999
Catalog: p04601
Product Dimensions: 9 x 7.5 x 1.4 inches (22.9 x 19.0 x 3.6 cm)
Shipping Weight: 1.9 lbs (0.86 kg) Shipping Options
Yoga Technology Sales Ranking (all products): 367
---
CUSTOMERS WHO VIEWED THIS ITEM ALSO BOUGHT: