| | | |
Wheels of Life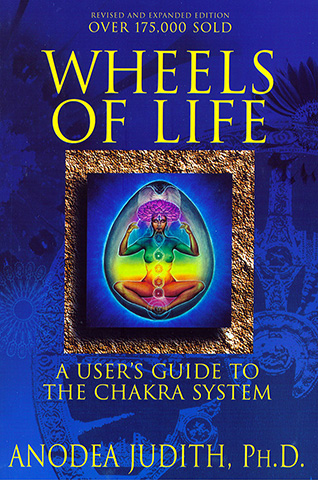 Takes You on a Wondrous Journey through Progressively Transcendent Levels of Consciousness
Wheels of Life by Dr. Anodea Judith takes you on a wondrous journey through progressively transcendent levels of consciousness. View this ancient metaphysical system by the light of new metaphors, ranging from quantum physics to child development. Learn how to explore your own chakras using poetic meditations, physical movements, and deep understanding of their spiritual principles.
As portals between the physical and spiritual planes, chakras represent the sacred architecture of your body and psyche. This classic introduction to the chakras, which has sold over 175,000 copies, has been completely updated and expanded. In addition to revised chapters on relationships, evolution and healing, it included a new section on raising children with healthy chakras.
ARTIST / AUTHOR BIOS

Anodea Judith, Ph.D. is one of the country's foremost experts on the chakra system and its therapeutic use, and on the interpretation of the Chakra System for the Western lifestyle. She teaches across the U.S., Canada, Europe and Central America. Founder and director of Sacred Centers, Anodea is a groundbreaking thinker, writer, and spiritual teacher. Her passion for the realization of untapped human potential matches her concern for humanity's impending crises - her fervent wish is that we wake up in time.
OTHER PRODUCTS BY OR FEATURING ANODEA JUDITH PHD:
PRODUCT DETAILS
Book softcover 453 pages
ISBN: 9780875423203
Publisher: Llewellyn, Edition: 1999
Catalog: P05102
Product Dimensions: 9 x 6 x 1.1 inches (22.9 x 15.2 x 2.8 cm)
Shipping Weight: 1.4 lbs (0.64 kg) - Shipping Options
Yoga Technology Sales Ranking (all products): 82
CUSTOMERS ALSO VIEWED: