SHOP eBOOKS | SHOP BOOKS| SHOP DVDs | SHOP CDs | SHOP YOGI TEA
Senses of the Soul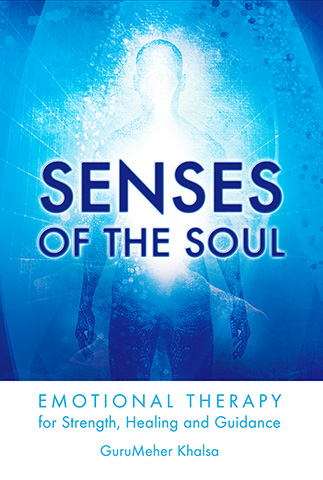 BUY NOW: ONLY $23.90
Retails for: $29.95 You save: $6.05 (20%)
Emotional Therapy for Strength, Healing and Guidance
Also available as an eBook - $15.83
Senses of the Soul is an illustrated guide with Kundalini Yoga meditations and exercises, from the teachings of Yogi Bhajan, to help you surmount even the most uphill of emotional struggles.
This book reveals how to:
allow your emotions to serve you rather than control you
find answers on your own to solve problems instantly
quit living with pain and past trauma, and resolve issues at their source
trust yourself and maintain personal power within relationships
discover strength in sensitivity and gain control over how you feel
ARTIST / AUTHOR BIOS

GuruMeher means compassionate teacher. For over 30 years he has studied, practiced, and taught innovative and effective techniques bringing growth, change and happiness to thousands of people, through teaching Kundalini Yoga, life coaching and public speaking. He works both privately with individuals and also, through workshops, with the business and yogic communities.
PRODUCT DETAILS
Book softcover 368 pages
ISBN: 9781934532980
Publisher: KRI, Edition: 2013
Catalog: P07081
Product Dimensions: 10 x 7 x 0.8 inches (25.4 x 17.8 x 2.0 cm)
Shipping Weight: 1.75 lbs (0.79 kg) Shipping Options
Yoga Technology Sales Ranking (all products): 77
---
CUSTOMERS WHO VIEWED THIS ITEM ALSO BOUGHT: