Art and Yoga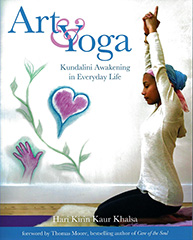 BUY NOW FOR: $21.95
Retails for - $29.95 You save - $8.00
Ships FREE to US Retail Customers (USPS Media Mail)
Normally ships from our warehouse in 1-2 working days
Kundalini Awakening in Everyday Life
Heal and serve your soul, your community and your world with Art & Yoga. This beautifully illustrated book provides step-by-step instructions to work with art & yoga as complementary practices. Yogis will find creative exercises to deepen their experience, while artists will discover simple, yet profound yoga and meditation to help their creative flow, focus and intuition.
CUSTOMERS WHO BOUGHT THIS ITEM ALSO BOUGHT:
Along the way we will draw inspiration from the teachings of Yogi Bhajan, nature, artists of the past, community art and recent developments in healing and spirituality.
Unroll your yoga mat, open your sketchbook, and allow your innate creativity to flourish, guided by this irresistible, inspiring book. Internationally renowned artist and yoga teacher Hari Kirin Kaur Khalsa draws on a lifetime's work of hands-on experience in the art studio, and her many years as a student of Yogi Bhajan, to create a fully integrated practice of art and yoga that is accessible to newcomers and seasoned practitioners alike. -
PRODUCT DETAILS
Book softcover 140 pages
ISBN: 9781934532676
Publisher: KRI, Edition: 2011
Catalog: P07041
Product Dimensions: 10 x 8 x 0.4 inches (25.4 x 20.3 x 1.0 cm)
Shipping Weight: 1.1 lbs (0.50 kg) Shipping Options
Yoga Technology Sales Ranking (all products): 120