| | | |
Yoga para Niños (eBook)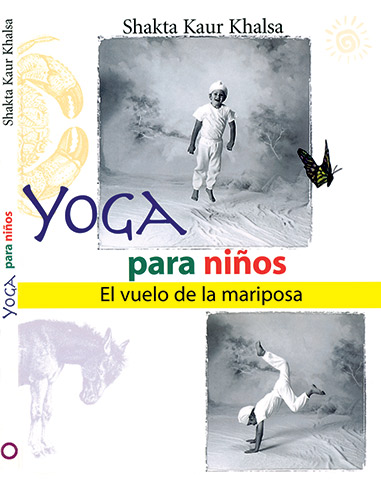 El Vuela de la Mariposa
Sean bienvenidos y los felicitamos por unirse al grupo, cada vez mayor, de padres y maestros que estan conscientes de los beneficios que el yoga proporciona a los nifios. A pesar de que el yoga ha gozado de popularidad entre los adultos durante varios afios, es solo de manera reciente que se ha comprendido lo util que la practica puede ser para los nifios durante los afios de formaci6n, pues al incrementar la conciencia de si mismos, construyen la autoestima a la vez que fortalecen el cuerpo, algo que es bienvenido en una cultura que ofrece pocas oportunidades de desarrollar la mente al mismo tiempo que jugar en forma activa.
El yoga que se presenta en este libro es dinamico; es rico en imagenes de animales asi como en cuentos que atrapan la imaginaci6n de los nifios, quienes, sumergidos en el disfrute, no se percatan de lo sanos y relajados que se encuentran. Es posible que alguien nombre esta actividad "movimiento creativo"; no obstante, contiene todos los ingre­dientes esenciales del yoga: conciencia de la respiraci6n, acondicionamiento fisico y mental, asi como la oportunidad de experimentar el "yo interior."
El cuerpo esta hecho para practicar yoga. Las posturas y angulos en ella ejercen pre­siones especificas que estimulan al cuerpo y al cerebro; dichas presiones producen los cambios necesarios para convertirse en una persona sana, feliz y completa.
ARTIST / AUTHOR BIOS

Shakta Khalsa (Lana Reed) has practiced yoga since 1972 and became a certified Kundalini Yoga instructor in 1976. She is also an AMS-certified Montessori educator. She is the author of a number of well-known books for adults and children as well as the writer of frequent magazine articles, and promoter of her own Radiant Child program – aimed at introducing Kundalini Yoga to children in a fun and inviting manner.
OTHER PRODUCTS BY OR FEATURING SHAKTA KHALSA:
PRODUCT DETAILS
File Size(s) & Update(s):
PDF - 383.980MB - 05/06/21

ePublication date: 05/05/2021
Catalog: e18231
Print-length: 132 pages
ISBN:
Publisher: Shining Circle; Printed Edition: 1998
Yoga Technology Sales Ranking (e-products): 84
CUSTOMERS ALSO VIEWED: