| | | |
Morning Stretch Evening Relaxation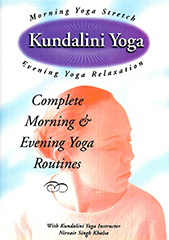 Kundalini Yoga to Start your Day and to Soothe and Relax you in the Evening
Morning Stretch Evening Relaxation from Nirvair Singh, the famed Alaskan Yogi, brings you Kundalini Yoga to get you started in the morning, and to soothe and relax you when it's time to wind down once more in the evening.
This effective DVD program comes in three parts.
The first part consists of a 20 minute morning Kundalini Yoga stretch series that is a wonderful way to start your day, refreshed and energized.
The second part is a 20 minute evening relaxation series that will soothe and relax you ready for bed.
The third part of this DVD will give you valuable information, including instructions on how to end your day and prepare for sleep, and how to adjust yourself upon wakening.
Instruction in the ancient and powerful techniques of Sat Kriya and Breath of Fire are also included.
ARTIST / AUTHOR BIOS

Kundalini Yoga teacher Nirvair Singh Khalsa is a prolific author with a total of 23 books and DVDs to his credit, many of which we carry here at Yoga Technology. A retired university instructor, he taught classes in Kundalini Yoga at the University of Alaska for 22 years, introducing some 275,000 students to the amazing power of this technology. These classes became the basis for our home study Beginners' DVD course.
OTHER PRODUCTS BY OR FEATURING NIRVAIR SINGH:
PRODUCT DETAILS
DVD running time = 75:00
ISBN: 1889679208
Director: Nirvair Singh
Manufacturer: NSK Productions. Released: 2003
Catalog: DV04017
Product Dimensions: 7.5 x 5.4 x 0.6 inches (19.0 x 13.7 x 1.5 cm)
Shipping Weight: 0.25 lbs (0.11 kg) - Shipping Options
Yoga Technology Sales Ranking (all products): 68
CUSTOMERS ALSO VIEWED: