The 21 Stages of Meditation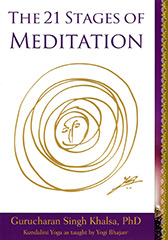 BUY NOW FOR: $29.95
Retails for - $34.95 You save - $5.00
Ships FREE to US Retail Customers (USPS Media Mail)
Normally ships from our warehouse in 1-2 working days
Kundalini Yoga as taught by Yogi Bhajan
The 21 Stages of Meditation enables you to recognize your strengths as a meditator, clarifies the actual process, and outlines the steps you need to take to continue your learning process.
CUSTOMERS WHO BOUGHT THIS ITEM ALSO BOUGHT:
OTHER PRODUCTS BY OR FEATURING GURUCHARAN SINGH:
The 21 Stages of Meditation is a key work in deepening your experience and understanding. Ranging from Upset to Boredom, to Humility, Graceful Enlightenment and the Sage, explore these stages and more during three distinct meditative journeys which culminate in the pinnacle of contemplative awareness - Stage 21 - The Infinite Pulse.
I've known Gurucharan for twenty years and appreciate his intelligence, devotion and humanity, all of which are present in this excellent book. You can trust what he says about meditation, and especially about the obstacles most people run into as they learn how to meditate. The book is outstanding: clear, flowing, concrete, useful and deeply authoritative. It is obviously rooted in experience, study and devotion to a tradition. It's not an easy subject to write about, but Gurucharan does it with both style and substance.
PRODUCT DETAILS
Book softcover 417 pages
ISBN: 9781934532775
Publisher: KRI, Edition: 2012
Catalog: p07023
Product Dimensions: 10 x 7 x 0.75 inches (25.4 x 17.8 x 1.9 cm)
Shipping Weight: 2.4 lbs (1.09 kg) Shipping Options
Yoga Technology Sales Ranking (all products): 11