| | | |
Ondas de sanación (eBook)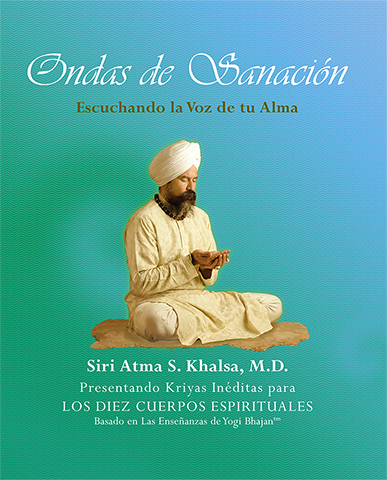 Escuchando la voz de tu alma
Printed version also available - $29.90
Ondas de la Sanación revela cómo el ser fiel a uno mismo – escuchando la voz de tu alma - desempeña un papel crucial en tu salud y sanación.
Puedes pensar que sólo tienes un cuerpo del cual cuidar pero, en realidad, tienes diez. Descubre cómo equilibrar estos diez cuerpos - el alma, las mentes negativa, positiva y neutral, el cuerpo físico, la línea del arco, el aura y los cuerpos pránico, sutil y radiante - para que puedas escuchar la voz de tu alma.
Ondas de la Sanación contiene Kriyas de Kundalini Yoga para cada cuerpo, publicadas por primera vez en Español, acompañadas y complementadas con meditaciones para los Diez Cuerpos.
Dr. Khalsa comparte la ancestral sabiduría yóguica de las Enseñanzas de Yogi Bhajan, Ph.D., y su comprensión personal sobre yoga, sanación y medicina. Estas enseñanzas están diseñadas para elevar el espíritu humano, y guiarte en la búsqueda de tu verdadero ser.
Hay una sabiduría, que es la armonía de tu Ser. Resuena la música de tu espíritu y se propaga como las ondas a todos en tu entorno.
ARTIST / AUTHOR BIOS

Siri Atma Singh Khalsa, MD is an engaging speaker in the field of yoga, healing and medicine. A KRI Kundalini Yoga Teacher Trainer, he teaches at Yoga Centers, Solstices and Teacher Training programs worldwide with his wife Nam Kaur.
OTHER PRODUCTS BY OR FEATURING SIRI ATMA S KHALSA MD:
PRODUCT DETAILS
File Size(s) & Update(s):
PDF - 14.606MB - 10/23/18

ePublication date: 08/08/2018
Catalog: e05302
Print-length: 239 pages
ISBN: 9780615486567
Publisher: Yogic Reality; Printed Edition: 2011
Yoga Technology Sales Ranking (e-products): 81
CUSTOMERS ALSO VIEWED: