| | | |
KUNDALINI YOGA The Flow of Eternal Power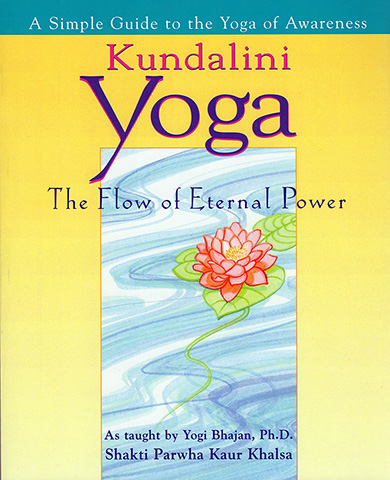 A Simple Guide to the Yoga of Awareness
Kundalini Yoga - The Flow of Eternal Power, by Shakti Parwha Kaur is a definitive guide to Kundalini Yoga - an ancient "sacred science" which was first revealed to the West by the master, Yogi Bhajan.
Surprisingly simple to learn, Kundalini Yoga when practiced regularly can strengthen the nervous system, balance the glandular system and harness the energy not only of our bodies, but of our minds and emotions too.
"The journey you must travel is only six inches long. Begin at the navel and reach the heart" -
This book covers:
Poses and positions from beginner to advanced
Diet and lifestyle
Breathing and stretching techniques
Chanting and meditation exercises
General guidelines for yogic practice
ARTIST / AUTHOR BIOS

Shakti Parwha Kaur Khalsa, author, the "Mother of 3HO" was Yogi Bhajan's first student in the United States. She went on to make a huge contribution to the phenomenal world-wide growth of Kundalini Yoga. Her books have been read by many and countless beginners have benefited greatly from the teaching techniques which she helped pioneer and propagate.
OTHER PRODUCTS BY OR FEATURING SHAKTI PARWHA KAUR:
PRODUCT DETAILS
Book softcover 321 pages
ISBN: 9780399524202
Publisher: Perigee - Random House, Edition: 1996
Catalog: P06001
Product Dimensions: 9.2 x 7.5 x 0.85 inches (23.4 x 19.0 x 2.2 cm)
Shipping Weight: 1.55 lbs (0.70 kg) - Shipping Options
Yoga Technology Sales Ranking (all products): 105
CUSTOMERS ALSO VIEWED: