| | | |
Bye Bye Stress (eBook)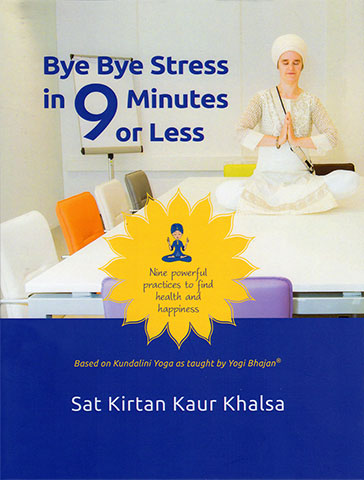 Health & Happiness in the Workplace - in 9 Minutes or Less!
Bye Bye Stress by Sat Kirtan Kaur is written for people who want to find more peace, happiness and relaxation in their jobs and their everyday life, and who are willing to work for it. To get the most from this book you need to not just read it but to experience it! You will find powerful exercises which take a minimum of your time, and give you the maximum result. No previous yoga experience is necessary, and you can even do these exercises at work in between your other daily activities. Keep them on your to-do list every day.
"These are the very secret exercises of Kundalini Yoga ... You need nine minutes in your life to renew yourself - chakra to chakra, angle to angle, projection to projection, self to self, so that you can be you. These are my gifts so that in coming generations we will enjoy it ... There is no human being who is too busy ... it's just nine minutes!" -
ARTIST / AUTHOR BIOS

Since 2005, Sat Kirtan Kaur Khalsa has been pursuing her mission to bring health and happiness into the workplace with Kundalini Yoga.
PRODUCT DETAILS
File Size(s) & Update(s):
EPUB - 12.505MB - 10/20/20
MOBI - 27.921MB - 10/20/20
PDF - 63.769MB - 07/14/18

ePublication date: 07/14/2018
Catalog: e04201
Print-length: 162 pages
ISBN:
Publisher: NineMinMax; Printed Edition: 2017
Yoga Technology Sales Ranking (e-products): 80
CUSTOMERS ALSO VIEWED: