| | | |
Kundalini Yoga for Beginners - Vol 3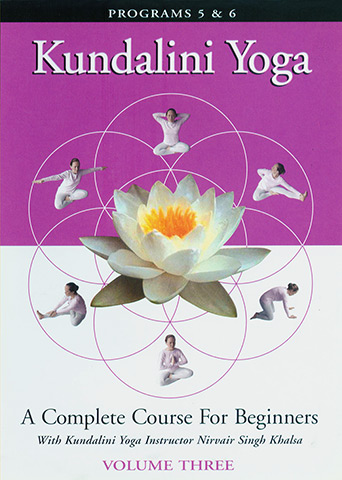 Lower Back, Hip, Upper Back and Shoulder Exercises
This is the third DVD of A Complete Course for Beginners by Nirvair Singh.
Lesson 5 - Lower Back and Hip exercise Series
Warm up stretching series. New breathing exercise; Breath of Fire (energizing breath). Lower back and hip exercises, and Sat Kriya. Deep Relaxation.
Lesson 6 - Upper Back and Shoulder Series
Warm up stretching series. Upper back and shoulder exercises for releasing tension. New breathing exercises. Deep relaxation.
Originally broadcast as an accredited telecourse at the University of Alaska, Anchorage, these twelve beginning yoga classes are designed to give students a survey of highly practical Kundalini yoga techniques.
Gently challenging, these delightful programs are made for people of all ages and physical conditions.
ARTIST / AUTHOR BIOS

Kundalini Yoga teacher Nirvair Singh Khalsa is a prolific author with a total of 23 books and DVDs to his credit, many of which we carry here at Yoga Technology. A retired university instructor, he taught classes in Kundalini Yoga at the University of Alaska for 22 years, introducing some 275,000 students to the amazing power of this technology. These classes became the basis for our home study Beginners' DVD course.
OTHER PRODUCTS BY OR FEATURING NIRVAIR SINGH:
PRODUCT DETAILS
DVD running time = 120:00
ISBN: 1889679151
Director: Chuck Bradlee
Manufacturer: NSK Productions. Released: 2002
Catalog: DV04003
Product Dimensions: 7.5 x 5.4 x 0.6 inches (19.0 x 13.7 x 1.5 cm)
Shipping Weight: 0.25 lbs (0.11 kg) - Shipping Options
Yoga Technology Sales Ranking (all products): 136
CUSTOMERS ALSO VIEWED: