| | | |
Japji Cards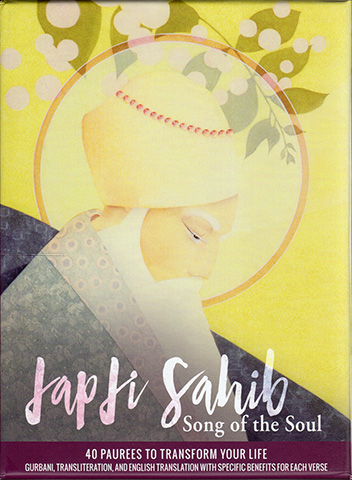 The Essence of the Sikh Faith - Ultimate Reality and How to Comprehend It
Japji is a prayer at the beginning of the Sri Guru Granth Sahib, the holy scripture of Sikhs. It was composed by Guru Nanak, the first Guru in the line of ten Sikh Gurus. It describes the nature of Ultimate Reality and the way to comprehend it, and is now considered to be the comprehensive essence of Sikh faith. It begins with Mul Mantra and is followed by 38 Paurees (stanzas) and ends with a final Salok.
It is said that all realms of existence and human experiences are contained within the sound current of Japji. In this recitation of the soul, which takes you through forty steps of the self, your entire being is balanced and elevated. Having a daily practice of Japji Sahib brings ecstasy, tranquility and peace.
This deck contains all 40 verses. Each card includes:
Gurbani transliteration to help with pronunciation
Explanations of the effects of the verses
English transliteration of each Pauree
Inside the box you will also find a booklet with meditation guidelines and practices, and a pronunciation guide card for the Gurbani transliteration.
Pick a card whenever you need guidance and inspiration, and immerse yourself in that section of Japji by reciting the chosen Pauree 11 times, or relating to it as your guiding intention for the day. Reciting the entire Japji daily will balance all aspects of your self and activate your soul
ARTIST / AUTHOR BIOS

Guru Nanak was born on 29 November 1469 at a village near Lahore in what is now Pakistan. According to Sikh traditions, events of his early years demonstrated he had been marked by divine grace. Contemporary commentaries provide details of his blossoming awareness and interest in divine subjects.
OTHER PRODUCTS BY OR FEATURING GURU NANAK:
PRODUCT DETAILS
Cards - set of 40 pages
ISBN: 9781928761129
Publisher: Sikh Dharma, Edition: 2018
Catalog: p06202
Product Dimensions: 7 x 5 x 1 inches (17.8 x 12.7 x 2.5 cm)
Shipping Weight: 1.2 lbs (0.54 kg) - Shipping Options
Yoga Technology Sales Ranking (all products): 61
CUSTOMERS ALSO VIEWED: