SHOP eBOOKS | SHOP BOOKS| SHOP DVDs | SHOP CDs | SHOP YOGI TEA
The Yoga Sutra of Patanjali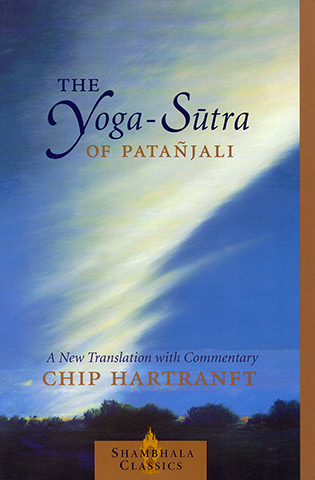 BUY NOW: ONLY $12.95
Retails for: $14.95 You save: $2.00 (13%)
A New Translation with Commentary
In just 196 short aphorisms, The Yoga Sutra of Patanjali, a classic work of Indian philosophy, spells out succinctly how the mind works, and how it is possible to use the mind to attain liberation.
ARTIST / AUTHOR BIOS

Chip Hartranft's work bridges the traditions of yoga and Buddhist meditation. He is the founding director or the Arlington Center in Arlington, Massachusetts, a teaching center dedicated to the integration of yoga and dharma practice. He leads retreats in the United States and abroad that blend yoga movement, breathwork, and mindfulness.
PRODUCT DETAILS
Book softcover 151 pages
ISBN: 9781590300237
Publisher: Penguin Random House, Edition: 2003
Catalog: P04521
Product Dimensions: 9 x 6 x 0.5 inches (22.9 x 15.2 x 1.3 cm)
Shipping Weight: 0.7 lbs (0.32 kg) Shipping Options
Yoga Technology Sales Ranking (all products): 108
---
CUSTOMERS WHO VIEWED THIS ITEM ALSO BOUGHT: