| | | |
The Path of Practice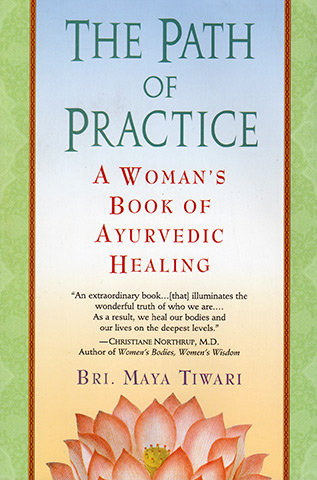 A Woman's Book of Ayurvedic Healing
The Path of Practice is filled with illuminating insights, easy-to-follow recipes, and meditations and exercises that can be adapted to different lifestyles and traditions. It contains one of the only holistic programs designed for women by a woman. Imbued with the spiritual strength and centeredness of its remarkable author, here is a practical and profound book you will turn to time and time again for instruction, wisdom, and peace of mind.
ARTIST / AUTHOR BIOS

Born in Guyana to Indian parents (her father was a Brahmin priest) Bri. Maya Tiwari moved to the US to become a New York City fashion designer. Diagnosed with ovarian cancer at the age of 23 she was given only 2 months to live. She beat her cancer through intensive meditation and holistic nutrition, and today devotes herself to teaching the wisdom practices of the Vedas.
PRODUCT DETAILS
Book softcover 418 pages
ISBN: 978034543845
Publisher: Penguin/Randomhouse, Edition: 2000
Catalog: p04602
Product Dimensions: 8.2 x 5.5 x 1 inches (20.8 x 14.0 x 2.5 cm)
Shipping Weight: 0.9 lbs (0.41 kg) - Shipping Options
Yoga Technology Sales Ranking (all products): 141
CUSTOMERS ALSO VIEWED: