| | | |
Physical Training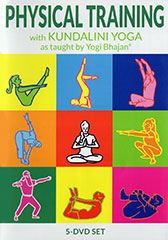 Establish your Kundalini Yoga Workout and Heal while Exercising with this 5-DVD Set
Physical training with a difference with Yogi Bhajan, recorded on 5 consecutive days at Espanola, NM, in the summer of 1994. Establish your Kundalini Yoga workout as you learn how to heal while exercising. As Yogi Bhajan said, exercise must have a purpose, it must have a projection, and it must have a science to it. Exercise for exercise's sake is not exercise!
The Physical Training Yoga Sets are perfect for establishing a weekly routine with Kundalini Yoga, or for a powerful morning yoga workout. This 5-dvd set gives demonstrations of the postures and timing for each exercise, so you can follow along with ease.
The original videos have been color corrected and audio has been remastered to help bring the experience alive. Keep up and keep fit!
Contents of this 5 DVD-Set:
Vol. 1 – June 28, 1994 – (28 Minutes)
Vol. 2 – June 29, 1994 – (47 Minutes)
Vol. 3 – June 30, 1994 – (43 Minutes)
Vol. 4 – July 1, 1994 – (56 Minutes)
Vol. 5 – July 2, 1994 – (51 Minutes)
ARTIST / AUTHOR BIOS

Yogi Bhajan was the trail-blazing visionary who introduced the world to the amazing, but hitherto secret, teachings of Kundalini Yoga and, for the very first time, revealed its incredible life-transforming potential.
OTHER PRODUCTS BY OR FEATURING YOGI BHAJAN:
PRODUCT DETAILS
DVD - set of 5 running time = 225:00
UPC: 9781940837017
Director: Rampreet Kaur
Manufacturer: KRI. Released: 2014
Catalog: DV07041
Product Dimensions: 7.5 x 5.4 x 0.9 inches (19.0 x 13.7 x 2.3 cm)
Shipping Weight: 0.5 lbs (0.23 kg) - Shipping Options
Yoga Technology Sales Ranking (all products): 111
CUSTOMERS ALSO VIEWED: