SHOP eBOOKS | SHOP BOOKS| SHOP DVDs | SHOP CDs | SHOP YOGI TEA
Detox with Green Diet and Kundalini Yoga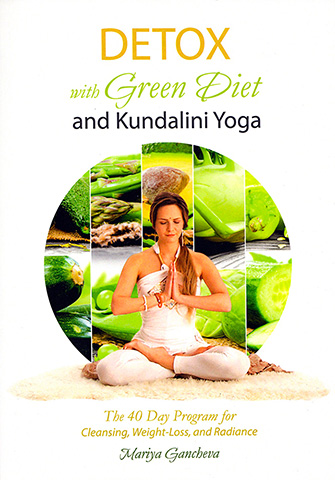 BUY NOW: ONLY $24.95
Retails for: $34.95 You save: $10.00 (29%)
The 40 Day Program for Cleansing, Weight-Loss and Radiance
Also available as an eBook - $9.67
Mariya Goncheva's 40 day program, in her transformational manual Detox with Green Diet and Kundalini Yoga, combines yogic lifestyle, nutrition and practice that will enable you to completely master your digestive system, remove toxins, and give a youthful appearance to your skin. It will reinvigorate and reboot your entire body. You will wake up feeling refreshed and full of energy, focused, driven and happy. Your body will be lean and light. In short, you will feel pretty amazing.
ARTIST / AUTHOR BIOS

Mariya Gancheva - transformational leader, author and teacher - is also a successful investment banker in London. She is the embodiment of a modern woman who has managed to integrate the wisdom of the East into the fast-paced lifestyle of the West.
PRODUCT DETAILS
Book softcover 150 pages
ISBN: 9781544652917
Publisher: Kundalini Lounge, Edition: 2017
Catalog: P06071
Product Dimensions: 10 x 7 x 0.5 inches (25.4 x 17.8 x 1.3 cm)
Shipping Weight: 0.9 lbs (0.41 kg) Shipping Options
Yoga Technology Sales Ranking (all products): 109
---
CUSTOMERS WHO VIEWED THIS ITEM ALSO BOUGHT: