| | | |
A Womans Book of Yoga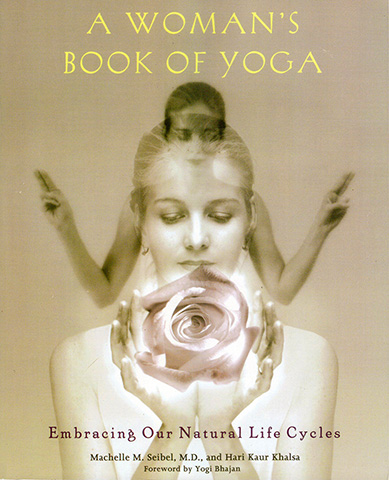 Hari Kaur | Machelle M Seibel MD
BUY NOW: ONLY $18.95
Embrace Your Feminine Energy of Creation to Enhance Your Physical and Spiritual Development
A Woman's Book of Yoga, by Machelle M. Seibel, M.D. together with renowned yogini Hari Kaur Khalsa, shows how every woman can embrace the feminine energy of creation to enhance her physical and spiritual development.
Noted gynecologist & fertility expert, Dr. Seibel, has advised his patients for many years now to look to the invigorating effects of the yogic lifestyle to improve their physical and mental health.
ARTIST / AUTHOR BIOS

Hari Kaur Khalsa is an internationally known Author, Kundalini Yoga Teacher and Teacher Trainer. She has designed and implemented programs for special needs students as well as workout classes for athletes, Women's Yoga for Menopause, Pre-Natal Yoga, Releasing Stress through Yoga, and Gentle Yoga for everyone. She teaches yoga for teens and programs for parents and teens such as Mother-Daughter yoga.
OTHER PRODUCTS BY OR FEATURING HARI KAUR:
PRODUCT DETAILS
Book softcover 276 pages
ISBN: 9781583331378
Publisher: Penguin - Random House, Edition: 2002
Catalog: P06041
Product Dimensions: 9.2 x 7.5 x 0.75 inches (23.4 x 19.0 x 1.9 cm)
Shipping Weight: 0.9 lbs (0.41 kg) - Shipping Options
Yoga Technology Sales Ranking (all products): 120
CUSTOMERS ALSO VIEWED: