Hari Kaur Khalsa - Kundalini Yoga Teacher and Author
Products and Biography
Hari Kaur Khalsa is an internationally known Author, Kundalini Yoga Teacher and Teacher Trainer. She has designed and implemented programs for special needs students as well as workout classes for athletes, Women's Yoga for Menopause, Pre-Natal Yoga, Releasing Stress through Yoga, and Gentle Yoga for everyone. She teaches yoga for teens and programs for parents and teens such as Mother-Daughter yoga.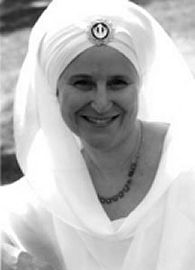 A caring, inspiring, and down-to-earth teacher, Hari makes the powerful and healing teachings of Yogi Bhajan's Kundalini Yoga accessible to students of all levels. She is author of two popular books - A Woman's Book of Yoga: Embracing Our Natural Life Cycles (co-author) and A Woman's Book of Meditation: Discovering the Power of a Peaceful Mind.
Former director of education and training of Golden Bridge NYC (2007-2009) and was also for ten years co-director for level one Kundalini Yoga teacher trainings for Yogi Bhajan in New Mexico and India, she has taught at institutions such as Harvard University, Falkner Hospital, Newton-Wellesley Hospital Wellness program, The Cambridge School in Weston (high school age students) and numerous yoga centers throughout the US and abroad.
Hari Kaur Khalsa was a founding board member and Vice President of the national Yoga Alliance, an association formulating minimum standards for yoga teachers teaching in the US. She serves on design teams for the continued quality assurance of yoga training at all levels.
She also serves as a board member for the International Kundalini Yoga Teachers Association and received the 2002 Community Service Award for community building and service as a yoga teacher. She is presently the managing yoga teacher for the Newton-Wellesley Hospital Wellness Center.
Married to jazz musician Dave Frank, she lives in New York City bringing music and yoga to uplift the spirit. Inspired by years of study with Yogi Bhajan, Hari Kaur Khalsa continues to serve all who come with smiles, and spirit.
PRODUCTS BY OR FEATURING HARI KAUR:
Below you will find our selection of products by Hari Kaur. Retail customers will also enjoy our FREE US Shipping.