| | | |
Invincible Living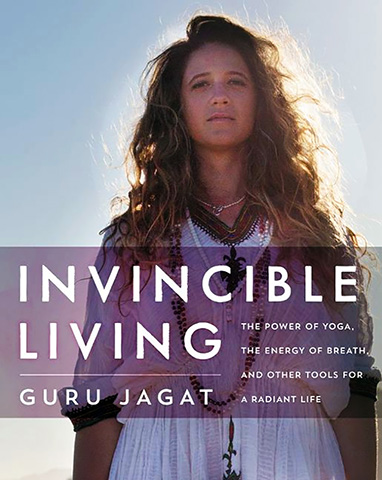 The Power of Yoga, the Energy of Breath, and Other Tools for a Radiant Life
In Invincible Living, acclaimed yoga teacher Guru Jagat shares her radical concept of yoga – not just a physical practice but a much broader principle upon which to base your everyday living. This practical, wildly cool, and beautifully illustrated guide (over 100 photos and illustrations) introduces you to the simple but super-effective technology of Kundalini Yoga and Meditation, upgrading your "operating system" both inside and out.
ARTIST / AUTHOR BIOS

Guru Jagat is a senior Kundalini Yoga teacher who originally studied under Yogi Bhajan. She enjoys a dedicated world-wide fan base, attracted by her fresh perspective and insights.
PRODUCT DETAILS
Book hardcover 263 pages
ISBN: 9780062414984
Publisher: Harper Collins, Edition: 2017
Catalog: P05031
Product Dimensions: 9.5 x 8 x 1 inches (24.1 x 20.3 x 2.5 cm)
Shipping Weight: 2.1 lbs (0.95 kg) - Shipping Options
Yoga Technology Sales Ranking (all products): 133
CUSTOMERS ALSO VIEWED: