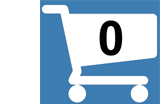 Seven Fold Journey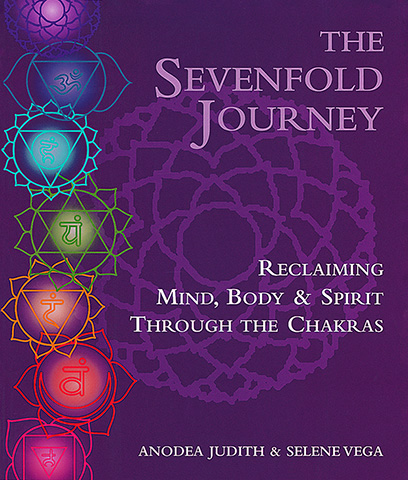 BUY NOW: ONLY $16.95
Retails for: $19.95 You save: $3.00 (15%)
NEW! - SHOP eBOOKS | SHOP BOOKS| SHOP DVDs | SHOP CDs | SHOP YOGI TEA
Reclaiming Mind, Body and Spirit through the Chakras
The Sevenfold Journey evolved from experiences gained by authors Anodea Judith and Selene Vega while leading seekers on a nine month chakra intensive. It is a simple step-by-step approach to what is a truly profound spiritual system.
"If you do the work this book suggests, changes will happen in your life, no matter what belief system you subscribe to... Judith and Vega may well have written a classic."
This book contains a variety of techniques, ranging from meditations and journal exercises to rituals and political activism. Each of you will find some parts more effective and appealing than others, depending on who you are and what general preferences you may have. You are encouraged throughout to do what works best for you.
Note which parts hold the most immediate appeal to you and which ones you find less attractive or even repugnant. Reflect on what it is you dislike. Do you find meditation too boring? If so, what is your need for excitement? Do the physical exercises seem intimidating? If so, to whose standards are you holding yourself? Do the tasks seem overwhelming? If so, how did you get your life so busy that it does not leave time for your spiritual practices? Finding answers to such questions is an integral part of your work, and one which will help point you in the right direction.
Once you have worked your way through each of the chakras (one per chapter) you will find, in the concluding section, a wealth of advice on how to tackle the most important question of them all - how to assess your overall energy patterns and achieve true system integration.
ARTIST / AUTHOR BIOS

Anodea Judith, Ph.D. is one of the country's foremost experts on the chakra system and its therapeutic use, and on the interpretation of the Chakra System for the Western lifestyle. She teaches across the U.S., Canada, Europe and Central America. Founder and director of Sacred Centers, Anodea is a groundbreaking thinker, writer, and spiritual teacher. Her passion for the realization of untapped human potential matches her concern for humanity's impending crises - her fervent wish is that we wake up in time.
---
OTHER PRODUCTS BY OR FEATURING ANODEA JUDITH PHD: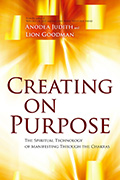 Creating on Purpose
$14.95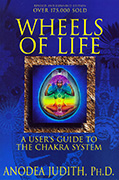 Wheels of Life
$16.95
PRODUCT DETAILS
Book softcover 289 pages
ISBN: 9780895945747
Publisher: Penguin - Random House, Edition: 1993
Catalog: P05105
Product Dimensions: 10 x 8.5 x 0.75 inches (25.4 x 21.6 x 1.9 cm)
Shipping Weight: 1.75 lbs (0.79 kg) Shipping Options
Yoga Technology Sales Ranking (all products): 81
---
CUSTOMERS WHO VIEWED THIS ITEM ALSO BOUGHT: