| | | |
Fighting for Our Tits (eBook)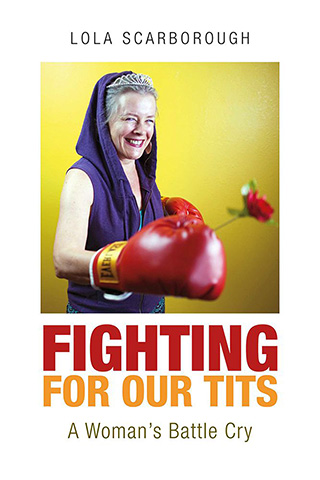 Keeping your Breasts Healthy and on your Chest
A must-read for every woman. If you are hungering for a book that is no-nonsense, easy-to-read, jam-packed with useful information, wise, funny as hell, and designed with the idea of keeping your breasts on your chest, you will fall in love with Fighting for Our Tits!
This amazing book contains details of some of the latest research on breast health, as well as practical suggestions on diet, exercise, emotions and little-known alternative approaches to healing. Lola Scarborough's 40 years of dedicated study, knowledge and personal experience in working with women's health, healing, and living an empowered life is showcased within.
It will lead you, the reader, on a journey that opens your mind and heart as you explore breast health in a new and refreshing way. Your boobs will absolutely quiver in delight!
Rediscover and tap into your own inherent healing power
Learn how and why current medical processes and technologies might be endangering your health and discover alternatives that are safe and effective
See how emotions impact the onset and progression of illness and learn to reset your emotional realities
Understand how commonly used products adversely impact breast health
Learn about your energy body and how it impacts the health of the physical body
Learn the importance of diet, nutrition, and exercise in terms of overall health in general and breast health in particular
Discover a comprehensive world of different alternative and natural paths to healing and wellness – from Medical astrology to Past Life Regression to Earthing to Herbs and everything in-between!
ARTIST / AUTHOR BIOS

Lola Scarborough is a healer, a medicine woman and a visionary. She is a natural health and wellness consultant, a 500-hour certified yoga teacher, and a food wellness expert who has trained and cross-trained in multiple modalities, using food, herbs, supplements and lifestyle changes to effect positive physical, mental and emotional changes in people who are suffering in one way or another.
PRODUCT DETAILS
File Size(s) & Update(s):
EPUB - 0.771MB - 08/05/18
MOBI - 2.827MB - 08/05/18

ePublication date: 08/07/2018
Catalog: e04301
Print-length: 268 pages
ISBN: 9781543931020
Publisher: Yoga Lola; Printed Edition: 2018
Yoga Technology Sales Ranking (e-products): 65
CUSTOMERS ALSO VIEWED: