Snatam Kaur - Open Your Heart and Connect
Products and Biography
With the release of Prem, Snatam Kaur announced the beginning of her solo career and, under the wing of wizard producer Thomas Barquee, many popular CDs followed, including Grace and Anand.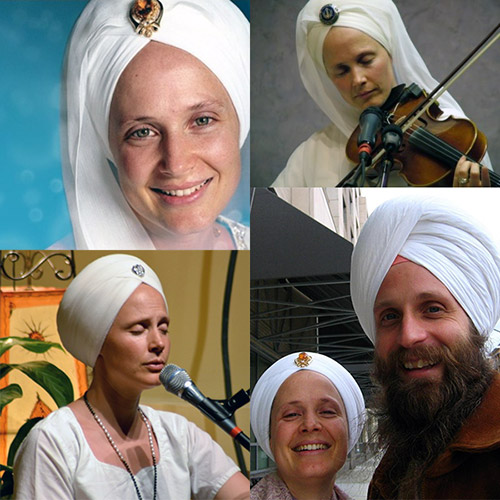 She also collaborated with Gurmukh Kaur in the release of a number of Kundalini Yoga DVDs – Healthy Body Fearless Spirit, Circulation and Detox and Kundalini Yoga for a Strong Nervous System, and her music was used for background on two of Nirvair Singh's instructional DVDs – Walk Tall with Kundalini Yoga and Grace and Prosperity with Kundalini Yoga.
She is also now a published author, with her book Original Light proving to be a very popular read.
Snatam Kaur has been singing and playing instruments virtually all of her life, having been introduced to Kundalini Yoga mantra at an early age. As a young girl growing up in California, she learned to sing with her mother, Prabhu Nam Kaur, in the Sikh musical or Gurbani kirtan style. These lessons were augmented by her local Sikh community, where she learned not only the correct pronunciations but also the passion which is always invoked at these spiritual gatherings.
As Snatam grew older, her profound talent began to blossom, and she developed her skills and expanded her musical scope to include many diverse traditions and instruments. She played violin in her school orchestra and learned about the importance of sound currents from Yogi Bhajan. She has also personally experienced the very real positive effect from the energy of these sacred words.
After high school, and in a quest to learn more about the Indian musical tradition, Snatam Kaur attended Miri Piri Academy, a boarding school set up by Yogi Bhajan for children in India. She spent her time there taking care of the young children, teaching physical education, and providing music for the children's morning and evening chanting.
Snatam was to return to India after gaining her degree in Biochemistry at Mills College, Oakland CA. In Amritsar, living near the Golden Temple, she studied music with the accomplished ragi (master of kirtan) Bhai Hari Singh. This was a great honor for her, and particularly meaningful because Bhai Hari was the same teacher who had taught her mother when she was just a little girl. She studied in his home, learning the technical aspects of the music and the ability to sing with presence and awareness.
In 2000, following her return to the US, Guru Ganesha Singh, founder of Spirit Voyage, signed Snatam Kaur to the label and became her manager and guitarist. Initially she was lead singer in a band called Peace Family, backed by Guru Ganesha and fellow guitarist Livtar Singh.
These days Snatam Kaur spends much of the year on the road, singing and teaching Kundalini Yoga wherever she's invited. Her husband and young daughter accompany her on tour. Depending on the venues, audiences can range from very small to very large. Whatever their number, they are all treated to the same show by Snatam, as she gives it her all.
"The purpose of our concerts is to create a beautiful experience, to offer people a chance to go deep within themselves and be uplifted from the inside out. The music allows them to experience the quietness within, a total sense of contentment and gratitude. Sacred music can help people find peace within. It's humbling but also empowering that our inner space absolutely does have an effect on the planet around us." –
At her concerts, Snatam Kaur plays the harmonium, guitar and violin but by far her greatest asset is her voice, with its powerful combination of sweetness, purity and strength. Her unique musical interpretation comes from her soul. She is equally at home singing in Gurbani kirtan as she is with musical traditions as diverse as American folk, jazz, rock, and anything in between.