SHOP eBOOKS | SHOP BOOKS| SHOP DVDs | SHOP CDs | SHOP YOGI TEA
Its Not Too Late Baby - with MP3 album (eBook)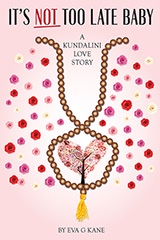 BUY NOW: ONLY $16.61
Retails for: $18.88 You save: $2.27 (12%)
A Kundalini Love Story
Author's Preface
Imagine you are sitting in a Broadway theater watching a musical only to realize the story unfolding in front of you is eerily close to your own. It was Beautiful, the true story of Carole King's life. A sweet girl becomes a singer/songwriter, marries a musician, buys a house, starts a family, writes an album to heal from the devastation of neglect in her marriage, and then leaves. But that isn't the ending I wanted to my story.
ARTIST / AUTHOR BIOS
Eva G Kane is a singer/songwriter turned author and Level 1 Certified Kundalini Yoga instructor. Her memoir delves into how she survived a near head on collision in her 24-year marriage. Her story is witty, honest and during the uncertainty of forgiveness, has developed into her own romance novel! IT'S NOT TOO LATE BABY, a Kundalini Love Story, with an option to purchase together with her album.
---
OTHER PRODUCTS BY OR FEATURING EVA G KANE:
PRODUCT DETAILS
File Size(s) & Update(s):
EPUB - 0.280MB - 08/07/18
MOBI - 0.545MB - 08/07/18

ePublication date: 08/07/2018
Catalog: e20002
Print-length: 204 pages
ISBN: 9780692162491
Publisher: Caldonia; Printed Edition: 2018
Yoga Technology Sales Ranking (e-products): 89
---
CUSTOMERS WHO VIEWED THIS ITEM ALSO BOUGHT: