Shanti the Yogi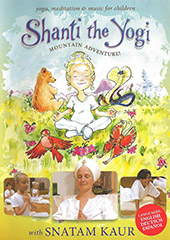 BUY NOW: ONLY $14.95
Retails for: $19.95 You save: $5.00
SHOP BOOKS | SHOP DVDs | SHOP CDs | SHOP YOGI TEA
Mountain Adventure
Snatam Kaur and Shanti the Yogi take you on a Mountain Adventure of yoga, singing and play. Snatam Kaur's charming story telling - she gets plenty of practice at home! - is combined with superb illustrations, and yoga class and, of course, her joy-filled music. A children's adventure in yoga which parents are sure to love too.
ARTIST / AUTHOR BIOS

With the release of Prem, Snatam Kaur announced the beginning of her solo career and, under the wing of wizard producer Thomas Barquee, many popular CDs followed, including Pren, Grace and Anand, and her groundbreaking recording with Emmy award winning pianist Peter Kater - Heart of the Universe.
---
OTHER PRODUCTS BY OR FEATURING SNATAM KAUR:
PRODUCT DETAILS
DVD running time = 70:00
UPC: 801898010122
Director: Alessandra Dobrin Khalsa
Manufacturer: Spirit Voyage Publishing. Released: 2008
Catalog: DV05031
Product Dimensions: 7.5 x 5.4 x 0.6 inches (19.0 x 13.7 x 1.5 cm)
Shipping Weight: 0.25 lbs (0.11 kg) Shipping Options
Yoga Technology Sales Ranking (all products): 211
---
CUSTOMERS VIEWING THIS PAGE MAY ALSO BE INTERESTED IN: