Pre Natal Kundalini Yoga and Meditation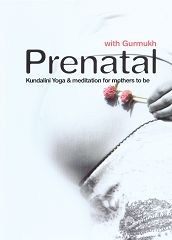 BUY NOW FOR: $16.95
Retails for - $20.00 You save - $3.05
Ships FREE to US Retail Customers (USPS Media Mail)
Eligble for free overseas shipping - orders over $60
Normally ships from our warehouse in 1-2 working days
NTSC Region 0 - for world-wide enjoyment!
Kundalini Yoga & Meditation for Mothers-to-be
In Pre Natal Kundalini Yoga and Meditation for Mothers to Be, Gurmukh explains how, across time and cultures, pre natal women have enjoyed Kundalini Yoga and Meditation for its focus on creating inner strength, fearlessness, a strong physical body and a quiet mind.
CUSTOMERS WHO BOUGHT THIS ITEM ALSO BOUGHT:
OTHER PRODUCTS BY OR FEATURING GURMUKH:
Pregnancy is a time of profound transformation that offers not only rare joy, but also unique challenges, both physical and emotional. For the past 30 years, pregnant women have found inspiration, comfort and wisdom in the Kundalini Yoga practice of Gurmukh Kaur Khalsa, the director of Golden Bridge Yoga, LA's premier center for the study of Kundalini.
Follow with ease as Gurmukh, a consultant to many yoga publications, author of Bountiful, Beautiful and Blissful and mother, offers you sought-after and time-tested teachings. Placing you in mind-body-soul harmony with the changes your body undergoes as it prepares for childbirth, this program is an easy-to-follow series of safe and effective asanas, meaningful poses and thoughtful meditations rooted in traditions dating back centuries.
PRODUCT DETAILS
DVD running time = 68:00
UPC: 809731882790
Manufacturer: Conscious Enlightenment. Released: 2007
Catalog: DV06021
Product Dimensions: 7.5 x 5.4 x 0.6 inches (19.0 x 13.7 x 1.5 cm)
Shipping Weight: 0.25 lbs (0.11 kg) Shipping Options
Yoga Technology Sales Ranking (all products): 137