| | | |
The Miracle of Healing Hands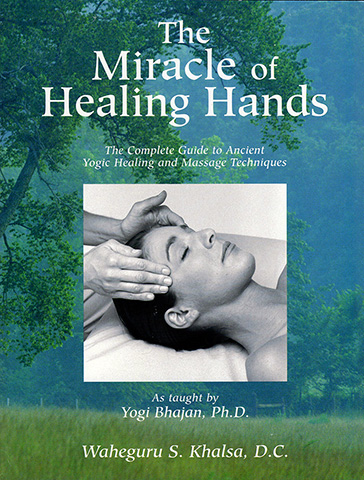 Breakthrough Healing and Massage Techniques!
The Miracle of Healing Hands by Waheguru Singh Khalsa, leading chiropractic doctor, delivers hope, promise and change, taking you one step at a time along the path to natural healing using ancient yogic techniques. For the beginner, it provides a foundation and sure footage to travel the path. For the licensed practitioner, it provides reminders of timeless truths, and attitudes which are healing in themselves.
ARTIST / AUTHOR BIOS

Waheguru Singh Khalsa, D.C., has advanced training in oriental medicine which includes using herbs to enhance his patients' well-being. He began studying Kundalini Yoga with Yogi Bhajan in 1972. For over 30 years he has maintained a practice in Los Angeles, combining the techniques from his book, The Miracle of Healing Hands, with chiropractic adjustments, diet and nutritional counseling and Kundalini Yoga.
PRODUCT DETAILS
Book softcover 224 pages
ISBN: 9780965849746
Publisher: Rishi Knot Publishers, Edition: 1997
Catalog: P05001
Product Dimensions: 11 x 8.5 x 0.6 inches (27.9 x 21.6 x 1.5 cm)
Shipping Weight: 1.55 lbs (0.70 kg) - Shipping Options
Yoga Technology Sales Ranking (all products): 151
CUSTOMERS ALSO VIEWED: