SHOP eBOOKS | SHOP BOOKS| SHOP DVDs | SHOP CDs | SHOP YOGI TEA
The Yoga Way to Radiance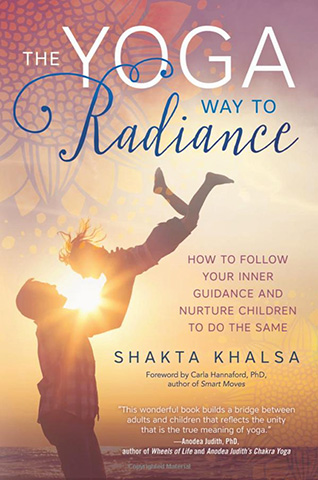 BUY NOW: ONLY $13.90
Retails for: $16.99 You save: $3.09 (18%)
How to Follow Your Inner Guidance and Nurture Children to do the Same
In The Yoga Way to Radiance, a highly informative and heart-centered book, Shakta Khalsa explains her belief that caring for children is the highest path of yoga. She encourages each parent, grandparent, and everyone working with children, to first step into their own authentic selves in order to reflect that authenticity to the children they nurture.
ARTIST / AUTHOR BIOS

Shakta Khalsa (Lana Reed) has practiced yoga since 1972 and became a certified Kundalini Yoga instructor in 1976. She is also an AMS-certified Montessori educator. She is the author of a number of well-known books for adults and children as well as the writer of frequent magazine articles, and promoter of her own Radiant Child program – aimed at introducing Kundalini Yoga to children in a fun and inviting manner.
---
OTHER PRODUCTS BY OR FEATURING SHAKTA KHALSA:
PRODUCT DETAILS
Book softcover 216 pages
ISBN: 9780738747767
Publisher: Llewellyn, Edition: 2016
Catalog: P18041
Product Dimensions: 9 x 6 x 0.5 inches (22.9 x 15.2 x 1.3 cm)
Shipping Weight: 0.75 lbs (0.34 kg) Shipping Options
Yoga Technology Sales Ranking (all products): 123
---
CUSTOMERS WHO VIEWED THIS ITEM ALSO BOUGHT: