| | | |
Mantralogy (eBook)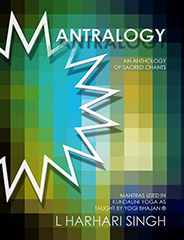 Comprehensive Guide to the Mantras & Sacred Chants of Kundalini Yoga
This amazing book, taken from the teachings of Yogi Bhajan, contains over 150 pages of his Kundalini Yoga mantras. Each mantra is transliterated in Roman characters with consistent and phonetic spellings. The translations are very detailed and accurate, and provide the reader with an intellectual understanding of nearly every mantra taught by Yogi Bhajan during his 37 years of teaching in the West.
Within Mantralogy you will find 4 sections:
Frequently Used Kundalini Yoga Mantras
Aquarian Sadhana Mantras
Other Mantras From Kundalini Yoga
Sacred Nitnem (7 Obligatory Sikh Banis)
Other features of this unique book include a precise pronunciation key, an index for easy reference, alphabetized layout, a section listing recommended recordings (for most of the mantras) and a complete Nitnem.
The author is donating 10% of the proceeds to the Yogi Bhajan Library of Teachings.
ARTIST / AUTHOR BIOS

L HARHARI SINGH, a world-traveled teacher, recording artist, photographer and vegan chef, is the founder of The Divine Portal Virtual Yoga Center.
PRODUCT DETAILS
File Size(s) & Update(s):
EPUB - 0.316MB - 03/05/22
MOBI - 0.471MB - 03/05/22
PDF - 2.385MB - 08/09/18

ePublication date: 08/04/2018
Catalog: e05801
Print-length: 166 pages
ISBN: 9780615929972
Publisher: Divine Portal; Printed Edition: 2013
Yoga Technology Sales Ranking (e-products): 24
CUSTOMERS ALSO VIEWED: