SHOP eBOOKS | SHOP BOOKS| SHOP DVDs | SHOP CDs | SHOP YOGI TEA
The Five Tibetans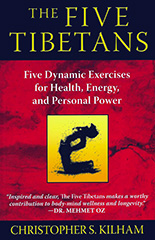 BUY NOW: ONLY $10.95
Retails for: $12.95 You save: $2.00 (15%)
Five Dynamic Exercises for Health, Energy & Personal Power
In The Five Tibetans, Christopher S. Kilham brings you a highly effective yogic system of energizing postures and exercises – one which originated in the Himalayas. These five exercises are easy to learn, take up a minimum of daily time and effort, but offer huge rewards for regular practitioners in the way of increased physical strength and suppleness as well as enhancement of mental acuity.
ARTIST / AUTHOR BIOS
Christopher (Chris) S. Kilham, born July 22 1952, is a teacher of yoga, meditation, and natural health, an author, medicine hunter, educator and world-traveler, and is a Fox News alternative medicine presenter and columnist. He has conducted medicinal research across 5 continents and in the South Pacific, and has been described as a cross between Indiana Jones and British TV personality David Attenborough. He has authored many articles and 14 books, including The Five Tibetans. He lives in Leverett, Massachusetts.
PRODUCT DETAILS
Book softcover 96 pages
ISBN: 9780892814503
Publisher: Inner Traditions, Edition: 1994
Catalog: P11011
Product Dimensions: 8.3 x 5.4 x 0.3 inches (21.1 x 13.7 x 0.8 cm)
Shipping Weight: 0.35 lbs (0.16 kg) Shipping Options
Yoga Technology Sales Ranking (all products): 202
---
CUSTOMERS WHO VIEWED THIS ITEM ALSO BOUGHT: