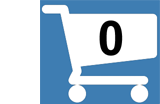 Yogi Bhajan Mantra Primer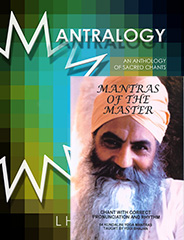 MORE BOOKS | MORE DVDs | MORE CDs | YOGI TEA
Unique Book and Disk Set
Yogi Bhajan's mantras as amazingly powerful, and a central aspect of his Kundalini Yoga is their conscious application. Mantras are typically in the sacred language of Gurmukhi, and occasionally, in English. They contain the vibrations of peace, prosperity, connection, and many other qualities and are understood by their impact, even if the meaning of each word is not known. Pronunciation comes with repetition and by example.
Now, with our Yogi Bhajan Mantra Primer, combining L. Harhari Singh's Mantralogy book and Santokh Singh's Mantras of the Master CD, we are offering a very effective learning system for students, which also serves as a complete reference source for advanced students and teachers.
Mantralogy, taken from the teachings of Yogi Bhajan, contains over 150 pages of his Kundalini Yoga mantras. Each mantra is transliterated in Roman characters with consistent and phonetic spellings. The translations are very detailed and accurate, and provide the reader with an intellectual understanding of nearly every mantra taught by Yogi Bhajan during his 37 years of teaching in the West.
Mantras of the Master as enunciated by Santokh Singh Khalsa DC will teach you the exact pronunciation and rhythm of 64 different Kundalini Yoga mantras taught by Yogi Bhajan. Each track is about 1 minute long, and can be looped using the repeat function of your CD player.
PRODUCT DETAILS
Book softcover - Audio CD combo 166 pages
ISBN:
Publisher: , Edition: 2013
Catalog: P05802
Product Dimensions: 11 x 8.5 x 0.8 inches (27.9 x 21.6 x 2.0 cm)
Shipping Weight: 1.95 lbs (0.88 kg) Shipping Options
Yoga Technology Sales Ranking (all products): 108
CUSTOMERS WHO BOUGHT THIS ITEM ALSO BOUGHT:
ARTIST / AUTHOR BIOS
L. HarHari Singh

L HARHARI SINGH, a world-traveled teacher, recording artist, photographer and vegan chef, is the founder of The Divine Portal Virtual Yoga Center.
Santokh Singh Khalsa DC

Santokh Singh Khalsa, DC, Pasadena-based chiropractor, healer and yoga practitioner, uses Kundalini Yoga and mantra as part of his healing techniques. A former student of Yogi Bhajan, he has been teaching beginners on how to start and maintain a regular daily yoga practice for over 30 years.
OTHER PRODUCTS BY OR FEATURING L. HARHARI SINGH:
Below you will find our selection of other products by L. HarHari Singh, competitively priced, and with FREE Shipping to US Retail Customers.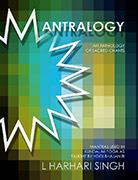 Mantralogy
$16.95