Santokh Singh Khalsa DC - Kundalini Yoga Beginners
Products and Biography
Santokh Singh Khalsa, DC, Pasadena-based chiropractor, healer and yoga practitioner, uses Kundalini Yoga and mantra as part of his healing techniques. A former student of Yogi Bhajan, he has been teaching beginners on how to start and maintain a regular daily yoga practice for over 30 years.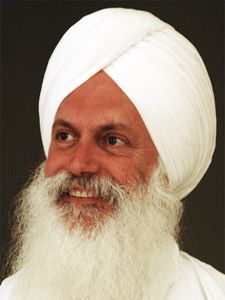 In 1975 he founded the Pasadena Awareness Center, and, based on work he had done with Yogi Bhajan, he developed a healing procedure - the Ten Body Tune Up.
Always interested in helping beginners at the start of their personal journey with this ancient yoga technology, he has created some inspirational and helpful CDs. Mantras of the Master is renowned for its simple and easy to understand approach. Now it is very easy, even for complete beginners to Kundalini Yoga, to understand the exact pronunciations of the very effective and efficient mantras introduced to the West by Yogi Bhajan.
Additionally his CD and booklet combo, A Simple Yoga Practice, is the perfect resource for those starting out and in need of extra direction.
One of his favorite quotes to new students is Anything worth doing is worth doing poorly. By this he means that, when starting something new, many people aim to be perfect from the start, rather than starting at a point at which they are comfortable and improving from there. The attitude seems to be that if they can't do it well immediately, then they would rather not bother to do it at all.
According to Santokh Singh Khalsa, what makes much more sense is to start from the level you are at, even though this may mean that you are not doing it very well, but if you keep up and practice regularly, you will improve very quickly. Let go of the initial desire to practice Kundalini Yoga to perfection and instead, begin living this lifestyle actively with daily devotion and practice.
Regular practice of these ancient yogic techniques will initiate the self-healing process, even if they are not being done perfectly.
PRODUCTS BY OR FEATURING SANTOKH SINGH KHALSA DC:
Below you will find our selection of products by Santokh Singh Khalsa DC. Retail customers will also enjoy our FREE US Shipping.