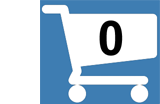 Kundalini Yoga for a Strong Nervous System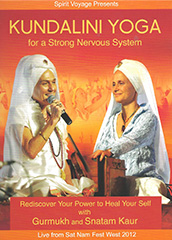 BUY NOW: ONLY $16.95
Retails for: $22.95 You save: $6.00
NEW! - SHOP eBOOKS | SHOP BOOKS| SHOP DVDs | SHOP CDs | SHOP YOGI TEA
Rediscover Your Power to Heal Your Self
Kundalini Yoga for a Strong Nervous System is a powerful class taught by Gurmukh and featuring live music by Snatam Kaur. The focus of the class is the healing and reactivation of the power of the body's central nervous system, the central channel, called the Sushmana. It also helps balance the hemispheres of the brain and the 5 Tattvas (the elements of the body).
This invigorating Kundalini Yoga kriya will activate the flow of energy through your central nervous system and create new connections in your brain's neurons to direct the energy's movement. You will feel your body reawakening as you charge your system for a healthier you!
As she teaches this kriya, Gurmukh belies her 70 years, exhibiting all the energy and vitality of a 30-year-old. Accompanying live music is provided by a group of musicians led by Snatam Kaur, with a special live Gong relaxation with Gurushabd Singh.
Recorded live at the 2012 Sat Nam Fest in April 2012, you will love the group energy of this DVD, with a live concert of beautiful music and a yoga class all in one. Be entranced by Snatam`s voice while you work your body and spirit towards the goal of a strong nervous system.
ARTIST / AUTHOR BIOS

For over three decades students in Los Angeles and around the world have sought Gurmukh's classes in Kundalini Yoga, meditation, and pre- and post-natal care. She is a co-founder, along with Gurutej Kaur, and director of Golden Bridge Yoga Center in Los Angeles, the region's premier center for Kundalini Yoga and meditation. She teaches classes there and around the world. Gurmukh is also author of a number of books and instructional DVDs.

With the release of Prem, Snatam Kaur announced the beginning of her solo career and, under the wing of wizard producer Thomas Barquee, many popular CDs followed, including Pren, Grace and Anand, and her groundbreaking recording with Emmy award winning pianist Peter Kater - Heart of the Universe.
---
OTHER PRODUCTS BY OR FEATURING GURMUKH:
PRODUCT DETAILS
DVD running time = 62:28
UPC: 884501889049
Manufacturer: Spirit Voyage Publishing. Released: 2013
Catalog: DV05023
Product Dimensions: 7.5 x 5.4 x 0.6 inches (19.0 x 13.7 x 1.5 cm)
Shipping Weight: 0.25 lbs (0.11 kg) Shipping Options
Yoga Technology Sales Ranking (all products): 102
---
CUSTOMERS VIEWING THIS PAGE MAY ALSO BE INTERESTED IN: