| | | |
Kundalini Yoga for a Strong Nervous System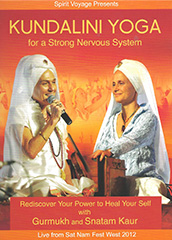 Rediscover Your Power to Heal Your Self
Kundalini Yoga for a Strong Nervous System is a powerful class taught by Gurmukh and featuring live music by Snatam Kaur. The focus of the class is the healing and reactivation of the power of the body's central nervous system, the central channel, called the Sushmana. It also helps balance the hemispheres of the brain and the 5 Tattvas (the elements of the body).
ARTIST / AUTHOR BIOS

For over three decades students in Los Angeles and around the world have sought Gurmukh's classes in Kundalini Yoga, meditation, and pre- and post-natal care. She is a co-founder, along with Gurutej Kaur, and director of Golden Bridge Yoga Center in Los Angeles, the region's premier center for Kundalini Yoga and meditation. She teaches classes there and around the world. Gurmukh is also author of a number of books and instructional DVDs.
OTHER PRODUCTS BY OR FEATURING GURMUKH:
PRODUCT DETAILS
DVD running time = 62:28
UPC: 884501889049
Manufacturer: Spirit Voyage Publishing. Released: 2013
Catalog: DV05023
Product Dimensions: 7.5 x 5.4 x 0.6 inches (19.0 x 13.7 x 1.5 cm)
Shipping Weight: 0.25 lbs (0.11 kg) - Shipping Options
Yoga Technology Sales Ranking (all products): 188
CUSTOMERS ALSO VIEWED: